Marketing automation has been established as an essential tool for digital marketers today. Are you not sure what is marketing automation? Or how marketing automation software can benefit your strategy? In case if you're one of those who don't know, this article is for you!
Till some time back marketing automation was reserved for those with enterprise-level marketing budgets. But, more and more businesses are now recognizing the value of marketing automation. And, with the introduction of new solutions made for smaller teams and lesser budgets, it has also become much more accessible.
Automation helps marketers save countless hours of tedious labor while improving their customer experience in all types of industries and organizations. Now is the right time to start building better customer relationships and saving time with marketing automation.
What is Marketing Automation?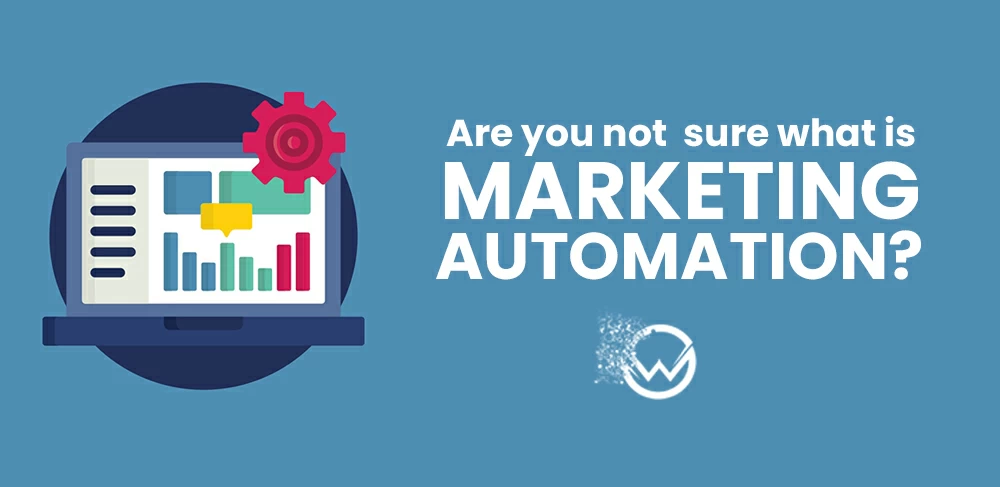 Marketing automation involves automating marketing activities using softwares.
A lot of repetitive marketing tasks are usually automated today, such as email marketing, social media posting, and even ad campaigns.
This is not done only for the sake of efficiency, but so they can provide their customers with a more personalized experience. Marketing automation makes these tasks a lot easier.
So, to refresh, marketing automation is the use of software that helps marketers automate their activities. This might include multi-channel digital marketing campaigns or managing contacts in their database.
Advantages of Marketing Automation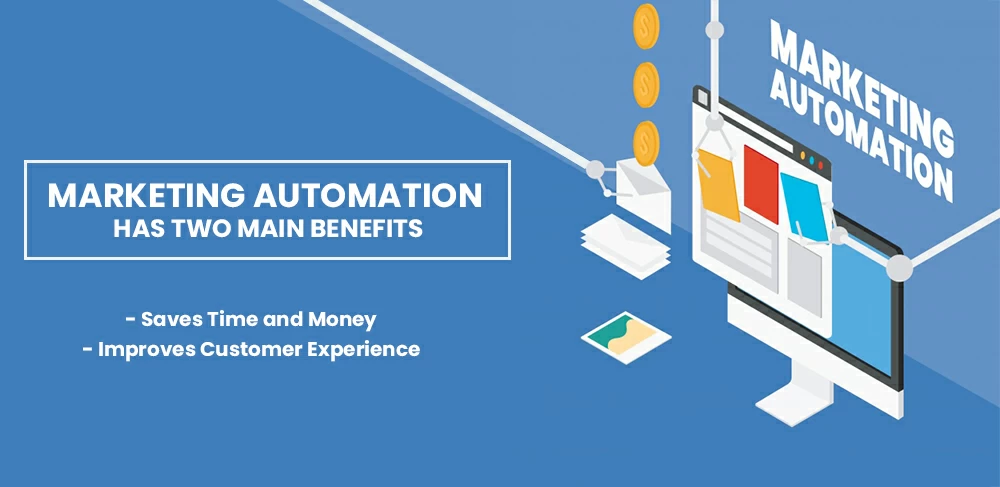 Marketing automation software has become quite popular in recent years. Over 90% of marketers consider it to be extremely important to the overall success of their digital marketing.
Marketing automation has two main benefits:
Saves Time and Money: It reduces the manual and repetitive tasks and lets the software do the work for you.
Improves Customer Experience: It enables you to create personalized journeys targeted toward the needs of each customer.
With repetitive tasks handled by automation, you get the time to focus on what's important, that is, your marketing strategy. Due to automation, now you can devote more time to improving and scaling your activities. Marketing Automation Insights can also show where your efforts are most and least fruitful. This leads to better ROI.
Moreover, marketing automation helps create a more effective customer journey that improves conversions, retention, and also strengthens the longer-term relationship. Targeted marketing can help you make sure that the customers receive the right message at the right time.This can help you boost conversions and connect with them on a personal level.
Uses of Marketing Automation
Email marketing automation is perhaps the most commonly used form of marketing automation. It involves sending targeted emails triggered by defined conditions.
Apart from email campaigns, you can use marketing automation software for activities on other channels like:
Social media: Some platforms enable you to schedule and publish content on different channels at once, or send automated responses to the messages you receive.
SMS messages: Ecommerce sites may send automated order confirmations via SMS. When organizing an event, businesses can keep attendees informed with automated updates
Landing pages: Does your landing page include a signup form? Marketing automation can help you add new leads to your

contact lists and follow up with them

.
How does Marketing Automation work?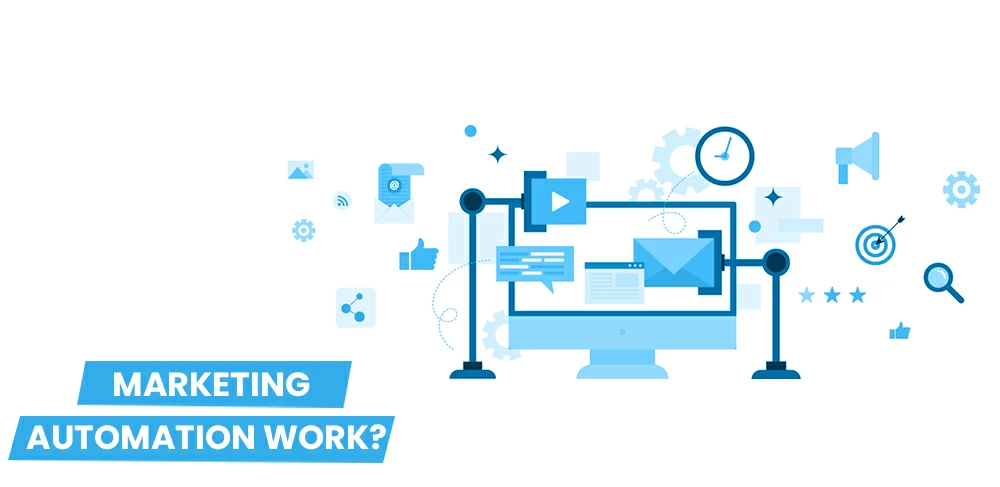 Marketing Automation Software
Today, there is a wider choice of marketing automation software, thanks to their increasing popularity. All platforms differ in their focus and offer varying functionalities. Some are focused on eCommerce businesses whereas others are better for B2B marketing purposes.
Although a lot depends on your budget, there are certain key features that you must look for in a marketing automation software:
Lead management for all the stages of the customer journey, from lead generation and capture to nurturing.
Analytics and Reporting to evaluate the performance.
Multi-channel marketing campaigns for different customer journeys.
Visitor tracking to know who is looking at your website and how they are using it.
A/B testing of different customer journeys and content to automatically select the best performing option.

Segmentation to separate your lists based on different criteria like contacts' behavior or interests.
Marketing Automation Strategy – Implementation
Now that you know what Marketing Automation is, let us go through the entire process of using marketing automation software.
1. Set your Goals
You must start by defining what you're aiming to achieve. You might want to generate more leads or improve retention or reduce bounce rates.
Once you've set your goals, you'll be able to plan out how marketing automation can help you get the desired results.
2. Identify Target Contacts
Once your goals are set, you must ask yourself which segment of customers you'll target. You could target the leads that you have already acquired or some website visitors that you want to convert.
Marketing automation tools can provide you with valuable insights into your contacts. Not only can they show their engagement with your previous campaigns but also find out whether they have visited a specific page on your website.
3. Establish your Workflow
After setting goals and identifying target contacts, you're ready to create your marketing automation workflow. Automation workflow is the set of rules that trigger your desired actions in a customer journey.
4. Performance Monitoring
You must continually track performance in order to get the most out of marketing automation. Your platform should offer the functionality of real-time statistics. It should be able to track activities like the number of campaigns sent, or metrics around engagement and conversions. This will help you refine and improve your strategy on the go.
Tips and Best Practices for effective Marketing Automation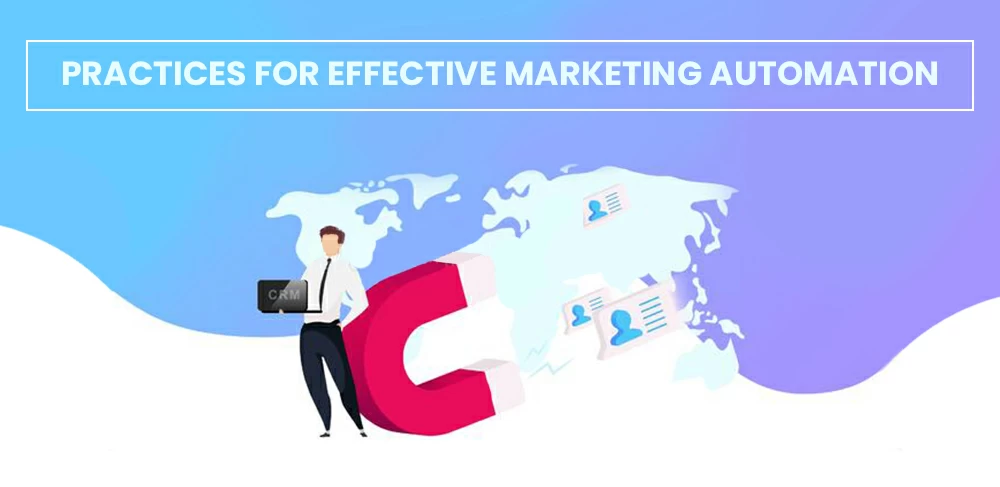 Start with the Basics
If you're new to marketing automation, you might easily feel overwhelmed with all the options made available to you.
We recommend you start small and identify existing areas and activities that could benefit from automation. For this, you could set up a series of onboarding emails for new customers and subscribers. Or you could send messages like birthday emails to mark special events.
Once you're confident with the basics you can proceed to more complex automation scenarios. For example, workflows that guide customers through the purchase process with the right message at the right time.
Get your Contact lists in order
The success of your marketing automation efforts depends on the presence of a reasonably-sized database of quality contacts. Your investment in automation will have a limited impact without first consolidating a flow of relevant leads.
But, don't end up buying contact lists at any cost! Such contacts will engage poorly with your campaigns. Investing in marketing automation to build relationships with potential customers is futile if they were not interested in the first place.
Plan your user journeys
Always begin your marketing automation strategy by mapping out the journey customers should take. This journey should cover all the key stages, from discovering your brand to converting.These planned user journeys will form the basis of your automation workflows.
Focus on your Messaging
Even the most perfect automation workflow won't yield good results without the right messaging. Your messaging must fit who you're targeting and where they are in the customer's journey.
The important benefit of automation is that it empowers you to be even more targeted in your marketing. So, personalize each stage of the customer journey based on the information you have gathered with apt messaging.
Keep a check on things!
Sure, marketing automation has the potential to save you significant time in the long term. But you shouldn't leave the software to do all the work and just hope for the best. You must keep a close eye on your key metrics. This will help ensure that you're on track and help you pinpoint any areas for improvement.
Final Words
Before trying out on your own, you must have a clearer understanding of the concepts behind marketing automation. You must also know how you can use it to grow your marketing. Investing in marketing automation can help take your business to new heights. It can help you get your sales funnel working in full-swing and improve your conversions, engagement, and overall profitability.
Got any questions? Let us know in the comments below or write to us and we'll get back to you!