A slow website can lose potential customers. Every online business that wants its website to be successful needs to make sure it loads quickly. As far as WordPress is concerned, you have plugins to provide you with speed optimization opportunities. One of the most popular speed optimization plugins you have is W3speedster to help your WordPress site boost speed and performance by fixing speed-related issues, and improving loading times and user experience. In W3speedster Review, we are going to examine performance-enhancing features to know whether it is worth paying for and how it goes beyond any other caching plugins in the market.
From affecting conversion rate to search engine rankings, website speed can change your whole algorithm. The good news is, that W3speedster is here with a bunch of unique features specifically designed to make sure top score on speed testing tools such as Google Page Speed Insights, GTmetrix, Pingdom, etc.
W3Speedster Review – Introducing The Top Rated Speed Optimization Plugin➲
W3speedster is a speed and performance optimization WordPress plugin with the most powerful features to optimize slow loading, improve page speed score, and core web vitals to make the website perform at its best.
With an easy-to-use interface, minimal setup, and great support, w3speedster has established its presence as a market leader.
Today w3speedster powers 1000+ websites and continues to evolve as a leading performance booster plugin for WordPress.
W3Speedster Review – Best Feature➲
W3Speedster Best Features
Quick Setup
CDN Integration
Fix Core Web Vital Issues
Media optimizatio
Caching
Lazy Loading
Automatically create server scaled images
WebP Support
Create Critical CSS
Preload Critical CSS
Minify CSS
Minify JavaScript
Defer JavaScript
Serve scaled images
Google Fonts Optimization
How to Speed  Up Your WordPress With W3Speedster➲
Here is a step-by-step guide on how to speed up your WordPress site by W3speedster Plugin:
1. Installing and activating W3speedster➤
To do it, log in to your WordPress admin panel and go to Plugin > Add New and click on Upload Plugin.
Select the zip file and click on Install Now. After that, you will be asked if you are sure you want to install the plugin. Click yes and the installation process will get started.
Once it's activated, go to the settings panel and you are ready to enjoy the plugin.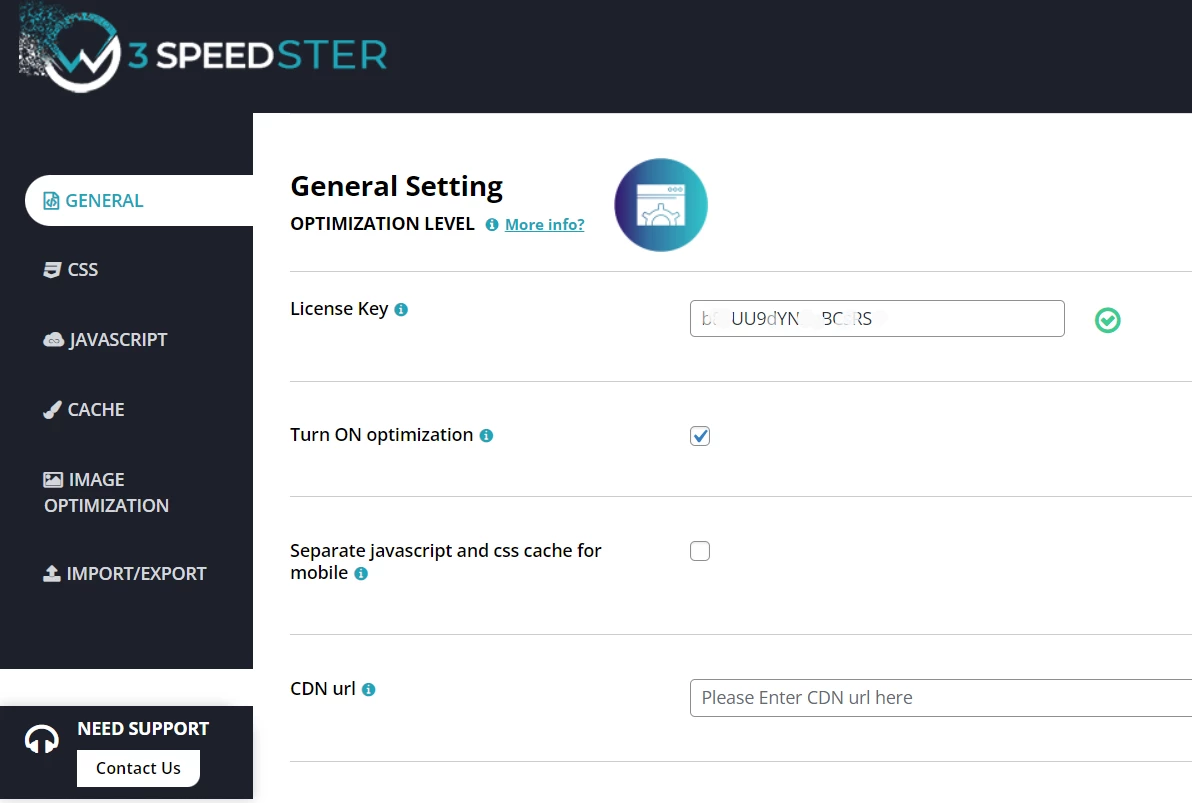 2. Configure Speed Optimization Settings➤
Go to wp-admin and locate the w3speedster plugin to optimize your website performance.
W3speedster can help you perform customized performance optimization based on the features and settings available.
You can start with General settings to start optimizing your website with the following features: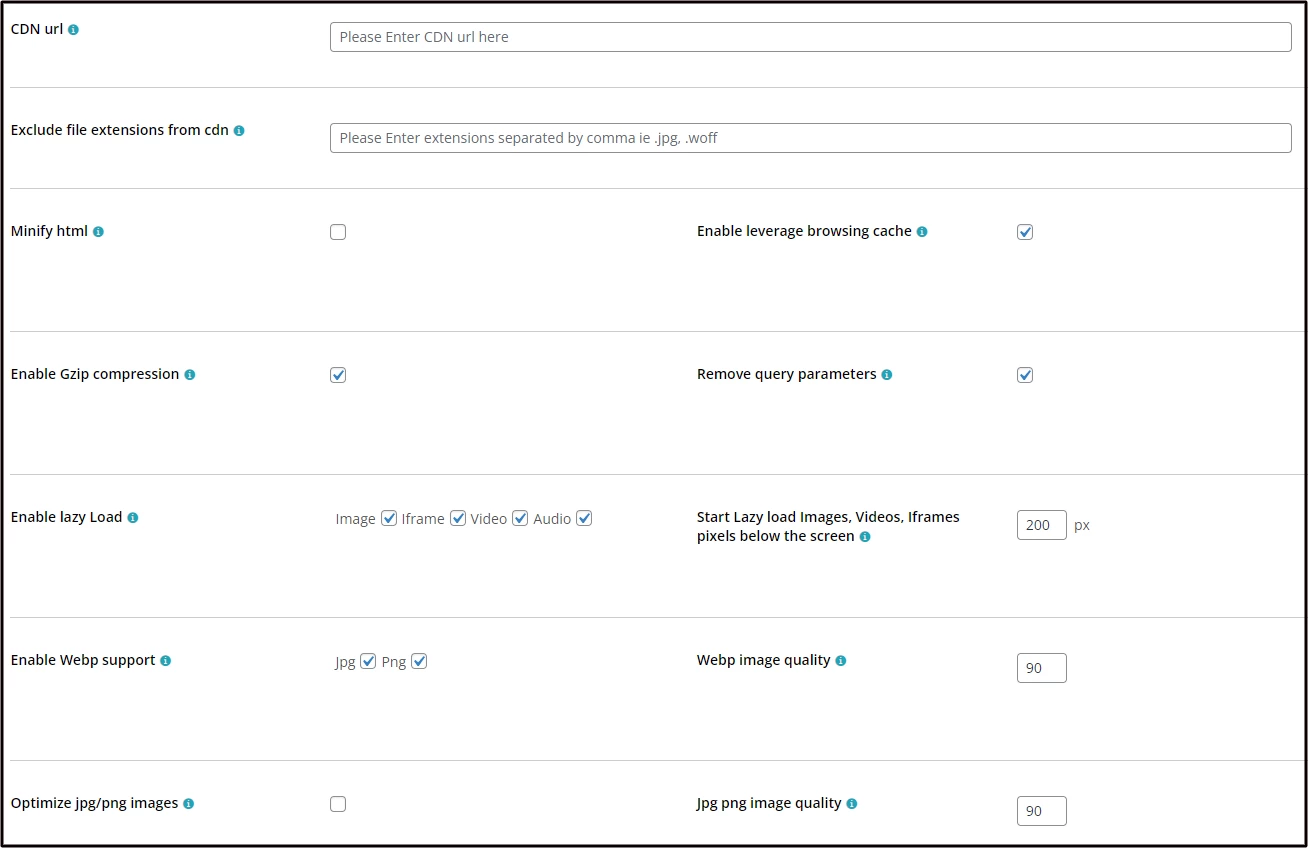 CDN Integration – One of the most proven ways to speed up your WordPress website is by integrating CDN into your website. If you are using the CDN service, W3speedster allows you to integrate it. A CDN creates a network of servers and helps distribute website content all around the world.
Leverage Browser Caching – Browser caching stores information (stylesheets, images, Javascript files, and more) so that when a visitor comes back to your site, the browser doesn't need to reload the entire page by keeping the images, JS, and CSS stored. Check off leverage browser cache in w3speedster and the loading speed of your website will be improved because the user's browser will need to download less data while navigating through your pages.
Enable Gzip Compression – Apply Gzip compression to reduce the size of HTML, JavaScript, and CSS files that are larger than 150 bytes and thus optimizing the delivery of the files.
Remove Query Parameters – Query strings aren't part of the hierarchical path structure to load your web page. Remove query parameters by w3speedster to speed up your wordpress website.
Lazy Loading – Lazy loading helps you reduce initial load time and reduce page weight for quicker load time.
Enable WebP Support – W3speedster goes beyond more than optimizing JPG and PNG file formats and allows you to support web image format. You can convert JPG and PNG files into WebP. Since the WebP image format is much smaller than other formats, you'll see a boost in the speed of your website.
Optimize JPG/PNG Images – To optimize your web page JPG and PNG images, W3speedster can help you with image optimization so as make your website load and open much faster. You can also check out the image optimization widget provided by the plugin to implement better
Optimize Images Via WP-Cron – You can also optimize images via wp-cron using the plugin. This feature allows you to schedule image optimization and optimize one attachment every minute to ensure your server performance doesn't affect.
Preload Resources – W3speedster offers you a preloading feature to preload important resources such as images, CSS, JS & fonts.
3. Optimize CSS➤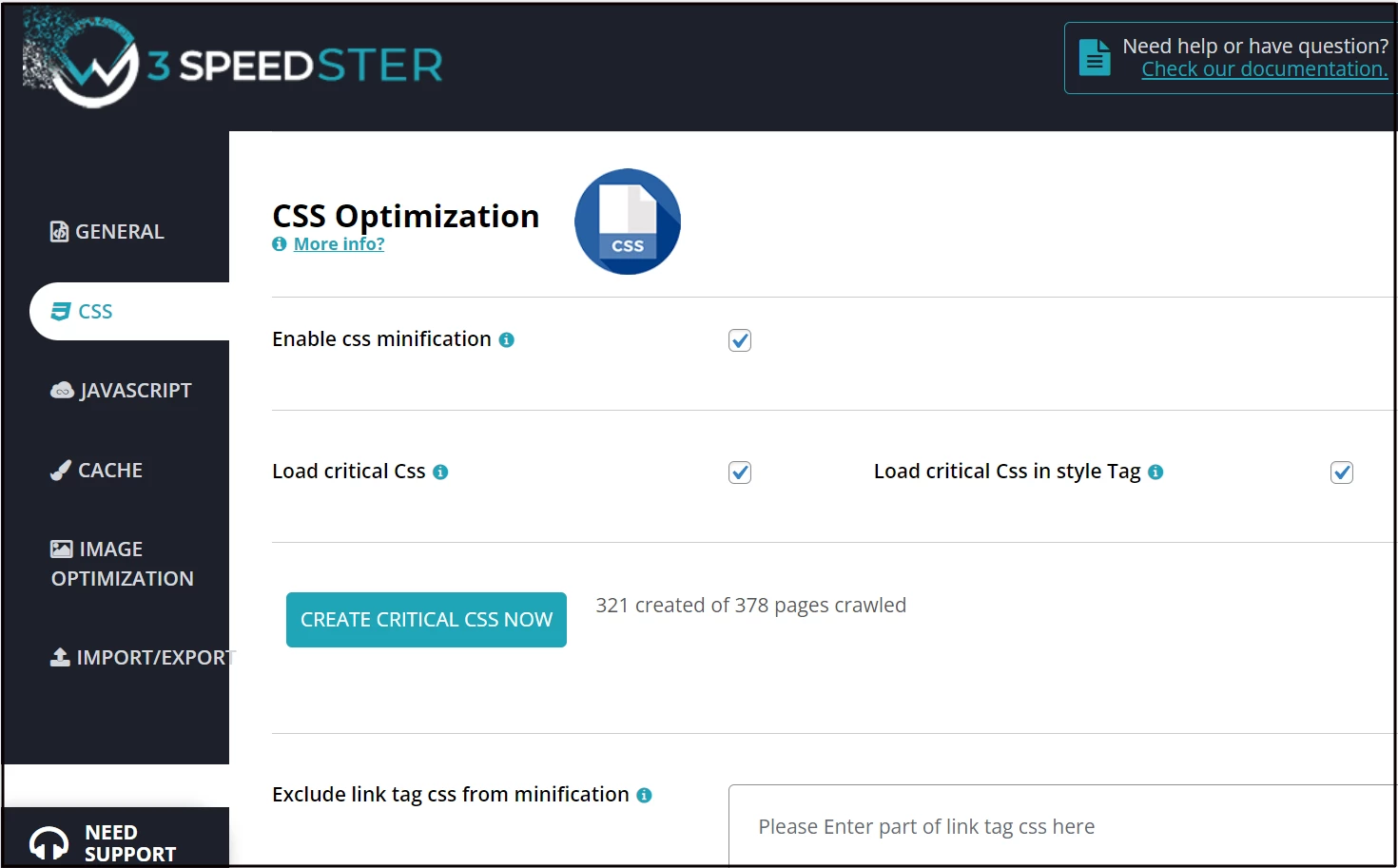 CSS minification – Minification minimizes the code and reduces the size of the CSS, and JS files. The larger the files will be, the longer time it will take to load. W3speedster comes with a feature for CSS minification.The plugin minifies CSS and removes white spaces, line breaks, comments, and block delimiters precisely.
Delay and Load Secondary CSS – W3speedster has a feature to delay and load secondary CSS. This loading allows you to load all the minified CSS after page load. You can also set the timing of the delay i.e. by how you want to delay secondary CSS. It is best to load secondary CSS with a 5-10 sec delay.
Lazy Load Google Fonts – It is recommended to delay google fonts loading by 0.1 to 0.2 seconds.
Generate Critical CSS – Critical CSS is a CSS extraction technique to load above-the-fold content as fast as possible.
4. Optimize JavaScript➤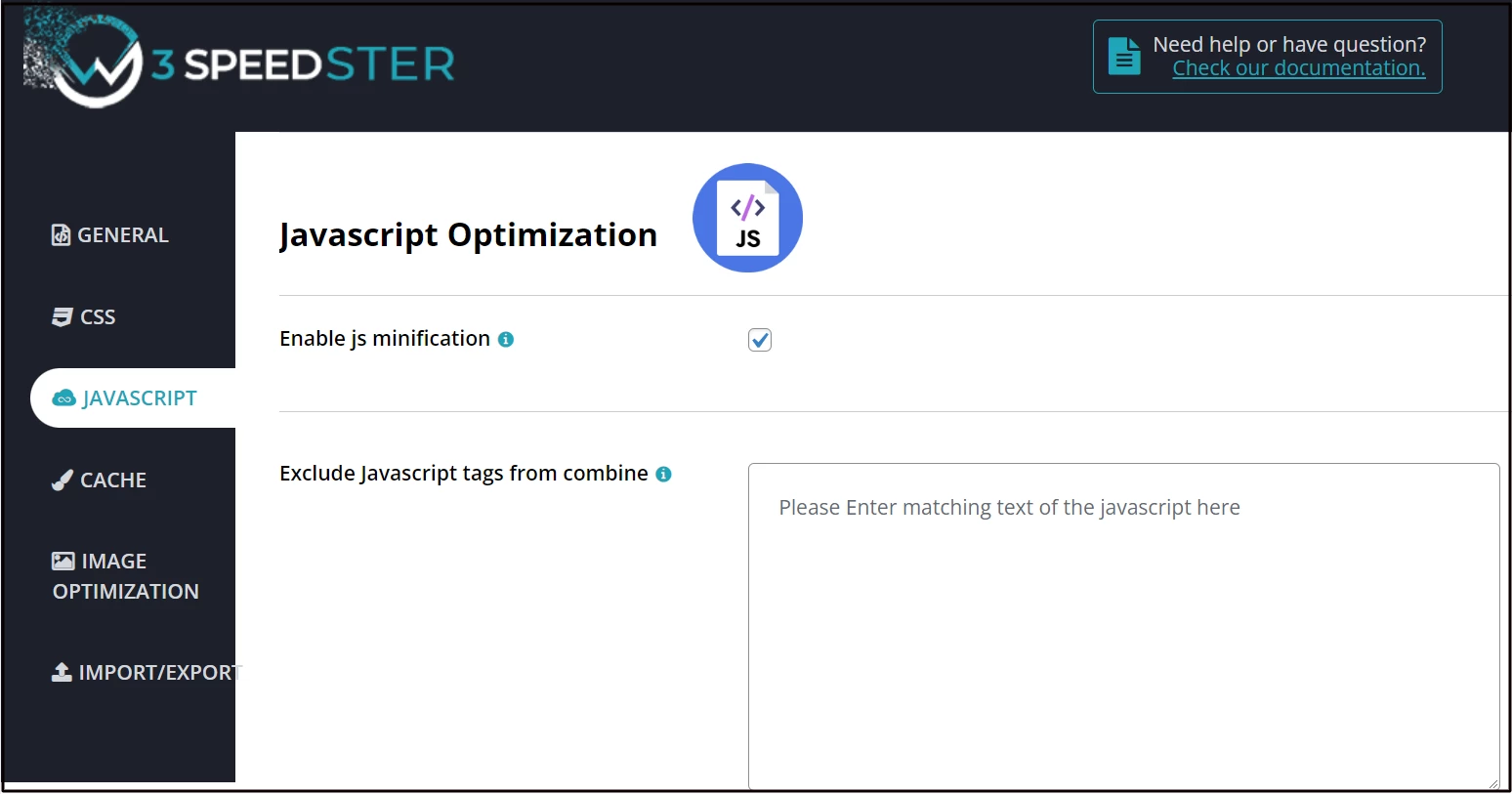 Enable JavaScript minification allows you to minify your heavily coded JS files by removing unwanted code. You can also have features such as exclude javascript tags from the combine, Preload Custom JavaScript, Exclude inline JavaScript from the combine, Force Lazy Load JavaSript, Load Combined JavaScript, Delay Internal Javascript Tags, and more.
Pros of W3Speedster➲
Support – The support of the plugin is simply top-notch.
Features Set – W3speedster has the most powerful set of features that no other premium plugins can provide you in the market. There are plenty of bonus features such as Generating Critical CSS, defer CSS, or Image Conversion into WebP you get with the plugin, unlike other paid ones.
User Interface – w3speedster promotes a top-quality user experience with a beautiful interface and easy-to-use functionality.
Ease of use – Without a doubt, W3speedster is one of the easiest to speed optimization plugins for WordPress. All you need to do is set up instant configurations, you are ready to speed up wordpress in less than 15 minutes.
Regular Updates – Keeping up with evolving demands of the market and customers' needs, w3speedster makes sure to provide regular updates.
100% Money-Back Guarantee – w3speedster pride on being the most trusted provider by businesses all around the world. With a 100% Money Back Guarantee, it ensures customers feel more confident about their purchase. So, you are in safe hands if you choose w3speedster as your performance optimizer.
No Risk of Website Crash – Often WordPress plugins are heavy to load and more likely to crash the website in the middle of optimization. Whereas, w3speedster is lightweight and has no risk of website crash while using the plugin even on the high settings.
Life Time Edition – Site loading delays are the worst of all downtimes and could happen anytime, and to anybody no matter what the scale of a business is. Therefore, w3speedster has a lifetime edition to ensure a website always performs at its best.
Affordable Prices – When compared to other premium performance optimization wordpress plugins, w3speedster has a lot cheaper prices with a long list of features.
Cons of W3Speedster➲
We haven't come across with disadvantage of the plugin except that it doesn't come with the free version for someone who wants to do tweaks here and there.
Without W3Speedster Optimization

With W3Speedster Optimization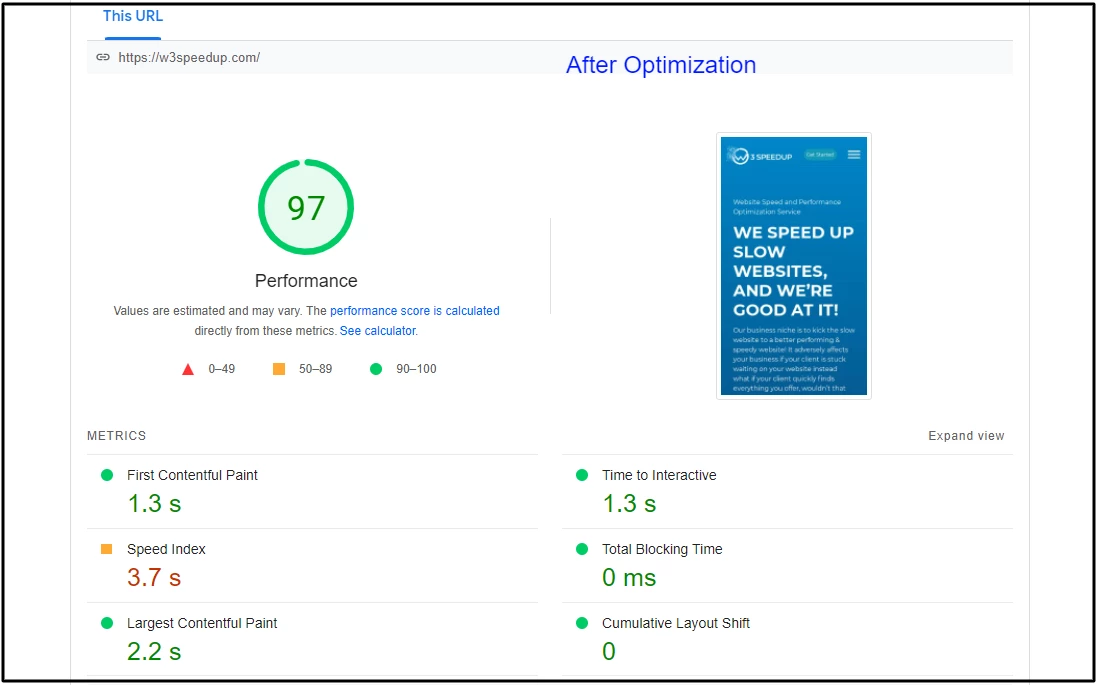 W3Speedster Pricing
The pricing plans of W3speedster are designed by experts for all sizes of businesses from small to mid-size. Unlike other free plugins which come with limited features and limited customer support, w3speedster is a premium plugin with the best quality premium features and dedicated email support to help customers get answers to their questions.
On top of that, often plugins have annual plans whereas w3speedster comes with both annual and lifetime plans structured at a minimal budget-friendly cost.
The best part is, W3speedster developer plans encourage developers to gain hands-on experience on the plugin while optimizing website speed and performance.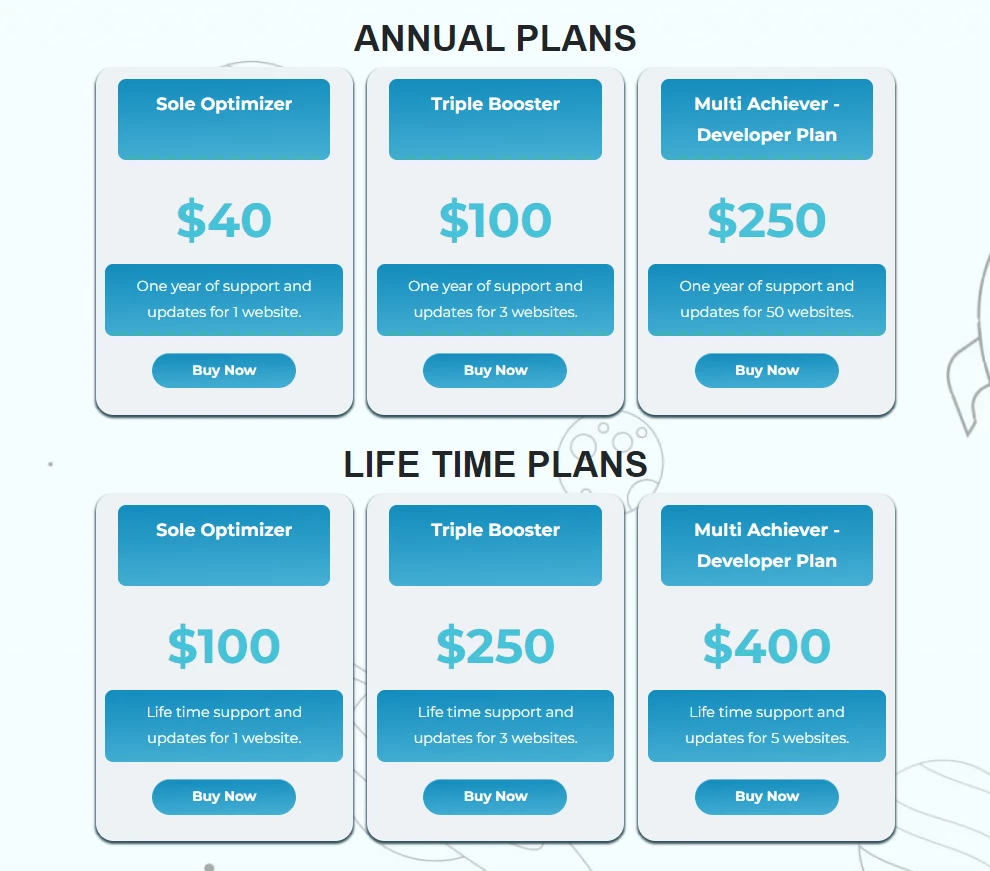 If you are looking for one of the most effective speed optimizations for your WordPress website, This W3speedster review can be your one-stop solution Option learn how?. $40 will be worth paying for your website to get huge compatibility, support, and convenience, providing you an edge into the competitive world to achieve higher performance on every occasion.
Click Here For Complete Documentation Guide:  W3SPEEDSTER FOR DEVELOPERS