When it comes to a domain, you've got to make sure your digital baby is truly unique. It should be clearly distinguishable and unique.
While picking a domain name, you'll want something memorable, brandable, and easy for people to type and pronounce. It's a smart choice to avoid anything too long or overly specific.
If you follow a few simple guidelines, you can pick out a name that'll help drive more traffic your way.
In this article, we'll explain why your domain name matters and share 10 factors to consider when choosing a domain name. Let's get into it!
Why is your Domain Name important?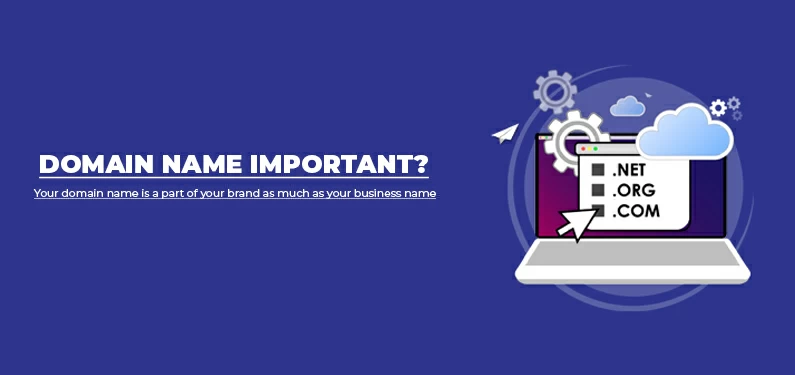 Your domain name is a part of your brand as much as your business name or logo is a part of your brand. You might have nailed your branding in every other respect.
But, if there's something about your domain name that puts-off potential customers, they'll likely go somewhere else.
The opposite of this is also true. If your domain name is precise and fun to say as well as use, people will be eager to check it out and share it. First impressions matter. A lot of times your domain is the initial experience people will have of your brand.
It's also not so simple to change your domain name once your website is online. It can be done but it can be time-consuming and have some unwanted consequences.
It can also cause a loss of traffic and unnecessary downtime. So, your life will be a lot easier if you take your time to come up with a name you love.
10 Important factors to consider when choosing a Domain name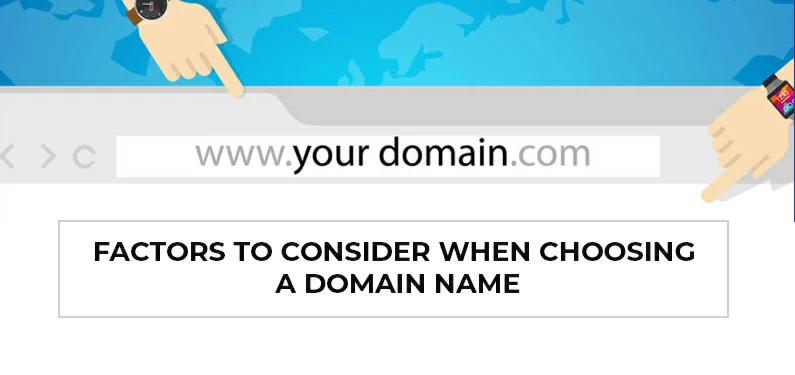 1. Choose the right Top-Level Domain
A Top-Level Domain (TLD) is the part of your domain that comes after the site's name. The most common and popular TLDs are .com, .net, and .org.
There are plenty of new and cool TLD options available. But, usually, it's best to keep it old school and stick to .com, if possible. It's been around the longest, is the most popular, and people are quite familiar with it.
It's possible that you won't be able to secure a decent domain name with a .com TLD. This is because, due to its popularity, many are already taken.
If that's the case, then you shouldn't think that it's the end of the world if you have to use an alternative. Use tools like NameCheck to check what TLDs are available for your domain name. It'll also show you whether social media profiles are available for the specific domain name.
2. Strategically Incorporate Keywords
Keywords aren't just limited to content. Most of the search engines use your domain name to understand what your site is about.
This also helps them determine search rankings. So it's essential to include keywords where possible, without it looking too obvious.
The keywords you pick for your domain name should be relevant to your website. It's more important to present your content accurately than to add keywords for their own sake.
If you don't have any good ideas, you can give Google Keyword Planner a try.
3. It should be Easy to Pronounce and Spell
Most likely, you want your domain name to be memorable. Irrespective of how cool it looks spelled out, sometimes you'll have to give someone your website or email address verbally.
Word-of-mouth is still a powerful form of advertising. But, it only works when people can actually pronounce your domain name. If they can pronounce it, then it makes the name easier to remember.
This increases the odds that people will visit and pass the site along to their networks.
4. Keep it Short
Shorter domain names work better and there are several reasons for that. Firstly, shorter names are easier to remember and type. They are therefore beneficial for branding purposes.
Moreover, an excessively long domain name makes you look suspicious. If you don't overuse keywords and make your name easy to pronounce, your domain will probably be short naturally.
5. Avoid Hyphens
Adding hyphens may seem like a creative way to somehow get the domain name you want. But, unfortunately, they're tough to express verbally.
They also make it more difficult to type the domain name. A few people will most likely forget about them entirely and end up on someone else's website.
When you're brainstorming domain name ideas, try to avoid anything that isn't a letter. That includes replacing letters with numbers. Adding anything that isn't a letter can make the name a lot easier for people to misremember and mistype.
6. Keep it Unique
A unique domain name can help your business stand out. It can potentially help you avoid legal trouble. It can also contribute to your marketing efforts. So you'll want your unique domain name to be brandable.
Think about something short, unique, easy to pronounce, easy to remember, and easy to type.
7. Make sure it's Flexible
Your domain name is one area where you shouldn't paint yourself into a box at any cost. You should be precise enough to attract an audience.
But, you don't want to be so specific that there's no room for your website to grow.
For example, "washington.football" might be perfect for a football blog. But, if you decide to write about other sports as well, you'll be stuck with an inaccurate domain name.
So, be smart and consider upfront how your site or business may expand over time.
8. Do you Domain Name Research
Once you've narrowed down to a few domain names, you can use a research tool to determine if it's available. However, the availability of a domain name does not imply that someone else doesn't have a valid claim to it.
To stay safe, you'll want to perform a trademark search before making your choice. This way you'll know if both the domain name and trademark under the same name are available are not.
It's also best to make sure you can secure appropriate social media handles. NameCheck can help you find out whether social media handles are available for your domain name.
If you can't get an exact match, try finding something that makes sense and goes with your domain name.
9. Buy other TLDs to protect your brand
If the domain name fits and you're sure that you want to continue with it, buy it in every TLD.
So, even if you manage to get a coveted .com address, you should consider purchasing other options and setting up redirects. You can also go a step further and buy common misspellings of your domain name.
This strategy works well when applied to social media as well. Right now you might think that you won't use Twitter, but you should grab a decent handle if one is available.
This way, you'll be ready if you ever decide to tweet. And, you'll also prevent anyone else from taking that username.
Final Words
You'll have a lot to think about when choosing a domain name. This is one of the first major decisions you'll make to establish your online presence.
Investing some time, care, and efforts into this selection can help set the stage for success in the future.
Remember to keep your domain name short, pronounceable, and easy to remember. It will get you off to a strong start.
Once you have a zeroed-in on a name, you can consider buying it along with other TLDs for the same domain.
Got any questions? Let us know in the comments below and we'll get back to you. You can also write to us for more detailed queries and questions.