Have you ever noticed a sudden change in how Google ranks websites? It feels like Google waits until you've worked hard on your website's SEO, and then it throws a surprise twist by changing its rules. 
In 2023, ranking a website on Google's top page is becoming increasingly difficult. Google doesn't exactly show its methods, so it's hard to know how it picks which websites should show up first when people search. 
But no need to worry about it! Because there are Free SEO tools that can help you understand your website from Google's point of view. With this understanding, you can improve your website's ranking on Google, especially for the keywords you want to be found for.
If you want to know more about those tools, keep reading this blog till the end! Here we will discuss in detail so you can use them for auditing and monitoring your website! 
Let's get started!!
List of Free SEO Tools
1. Google Analytics 

Google Analytics is the first on the list of Free SEO tools that measure a website's performance in SERPs. However, it's a free tool, but its paid version is also available. 
You can use Google Analytics to:
➤ Examine how users interact with your website. This includes analyzing page views, bounce rates, and users' general time on your site.
➤ Track the total number of visitors to your website. It provides information about your traffic sources, such as organic search, direct traffic, referrals, and social media. This helps you identify which channels are driving visitors to your site.
➤ Set up conversion goals to measure specific actions on the website, like form submissions, product purchases, or downloads. 
➤ Analyze which search engines, social media platforms, or referral websites send you traffic.
➤ Build custom reports and dashboards to focus on specific metrics for your business niche. 
2. Broken Link Checker 

The Broken Link Checker by W3 SpeedUp helps identify and rectify your website's broken and dead links.  Here's how this tool is useful in simple terms.
➤ Saves Time: Checking every link manually on a website can be time-consuming. This tool automates the process and saves your precious time and effort.

➤ Monitors Changes: Websites evolve, and links can become broken as content is updated. This tool monitors your site for such changes, ensuring links remain functional.
➤ Improves SEO: Search engines consider broken links a sign of a poorly maintained website. By fixing these issues, your site is more likely to receive higher rankings in search results
3. Google Search Console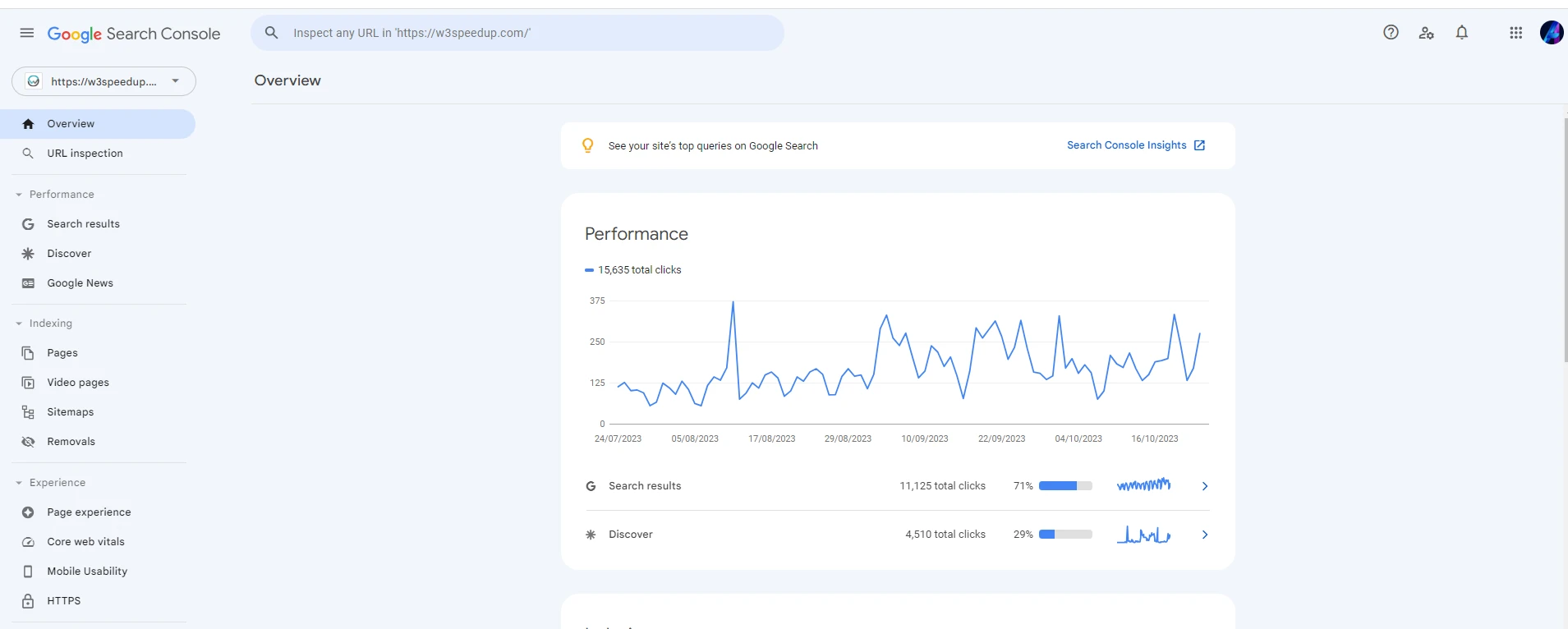 It is one of the best SEO audit tools that helps you analyze various aspects of your website. Especially if you are an SEO manager, this tool can help you conduct an initial SEO analysis from scratch or update your existing strategy with fresh keywords. 
Below are the elements that Google Search Console helps in optimizing your website. 
➤ Keyword Analysis: Understand which search queries are attracting users to your website. This data will help you customize your content and SEO strategies to target relevant keywords.

➤ Indexing Insights:  Find which pages of your website are indexed and which might have issues preventing proper indexing.
➤ Click-Through Rate (CTR) Analysis: Analyze the CTR for specific keywords and pages. 
➤ Performance Monitoring: Track your website's performance on Google with Google Search Console. It provides essential metrics such as 
Clicks,
Impressions, and
Average position in search results

4. Seolyzer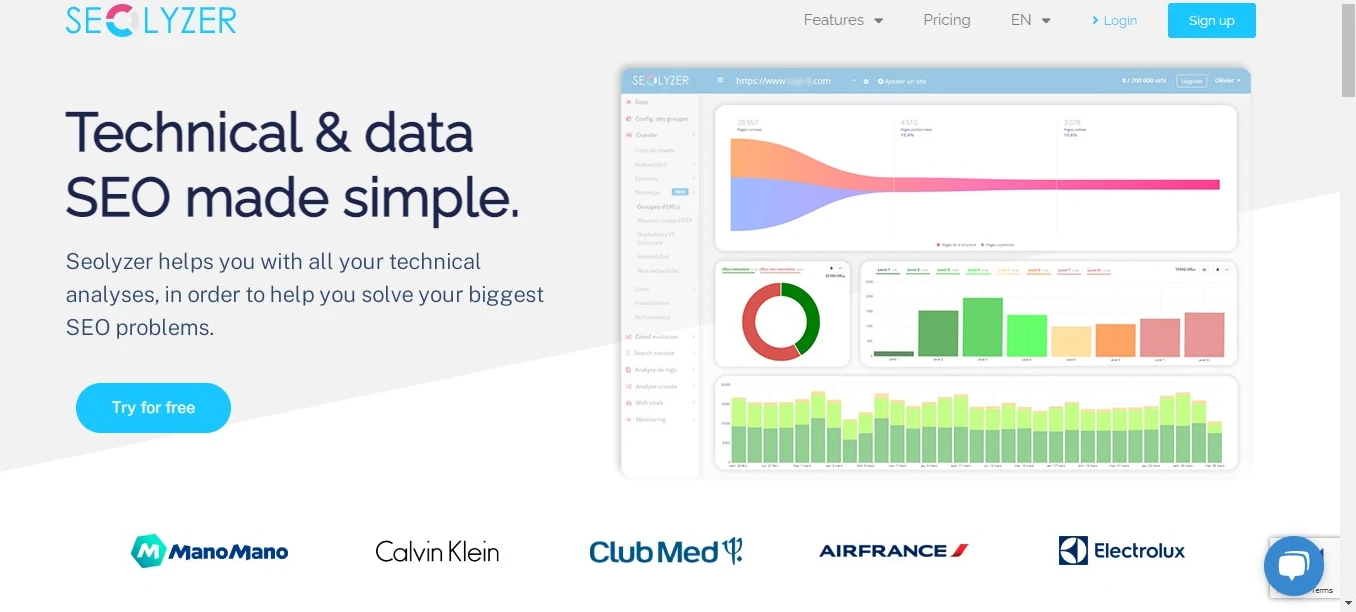 Next on the list of free SEO tools is Seolyzer. This tool goes beyond standard auditing and provides in-depth insights into how search engines view your website. Basically, this tool is helpful from different perspectives, as explained below. 
➤ Monitor SEO Issues: This tool alerts you about potential SEO problems such as poor response times, error messages, and fluctuations in crawl volume.
➤ Estimate SEO Impact: You can evaluate the effectiveness of your SEO effort with Seolyzer. It assesses the impact of your strategies on a page-by-page basis or categorically.
➤ Segment Web Pages: Gain insights into which pages on your website are receiving the most attention from search engine bots.
5. Domain Age Checker 

Domain Age Checker is a valuable tool that helps in auditing and monitoring your website. Wondering how? Keep reading! 
➤ Assessing Credibility: It helps you assess the age and history of your domain, which can have several implications for your website's performance and credibility. The older the domain, the more the website is credible!
➤ User Trust Building: This tool can highlight your website's longevity and build trustworthy connections with your audience. There are high chance that users might trust older websites more. 
➤ SEO Strategies: When ranking a website, search engines consider the age of a domain. An older domain may have an advantage if other factors are similar.
6. Schema Markup Generator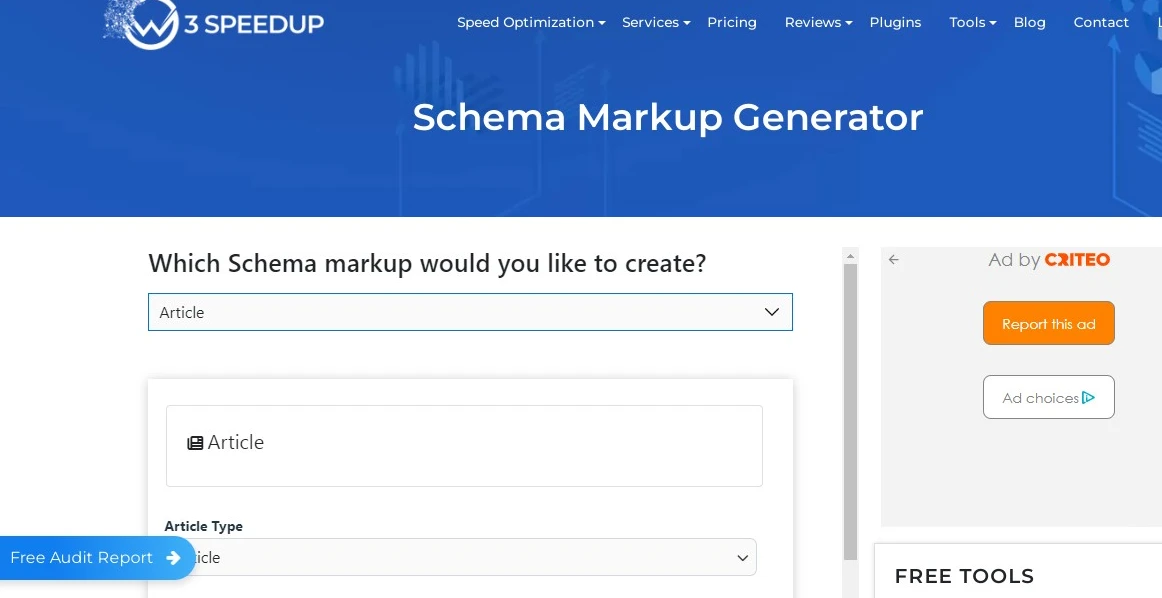 Schema markup (also known as structured data markup or schema.org markup) is a type of code that is added to your website's HTML. It is helpful in auditing and monitoring your website in the following ways.  
➤ Structured Data Implementation: It provides search engines with specific information about the content on your web pages and enhances how search engine results pages (SERPs) show your website.
➤ Rich Snippets: Schema markup enables the creation of rich snippets like star ratings, reviews, event details, and more. This can make your search results more appealing and informative to users.
➤ Improved Click-Through Rates: Rich snippets generated through schema markup can attract more clicks from search engine users.
➤ User Satisfaction: Schema markup helps users find the information they need directly in search results. This, in turn, will result in higher user satisfaction and lower bounce rates.  
Use the W3 SpeedUp Schema Markup Generator to create structured data, even without technical expertise. 
7. HubSpot Website Grader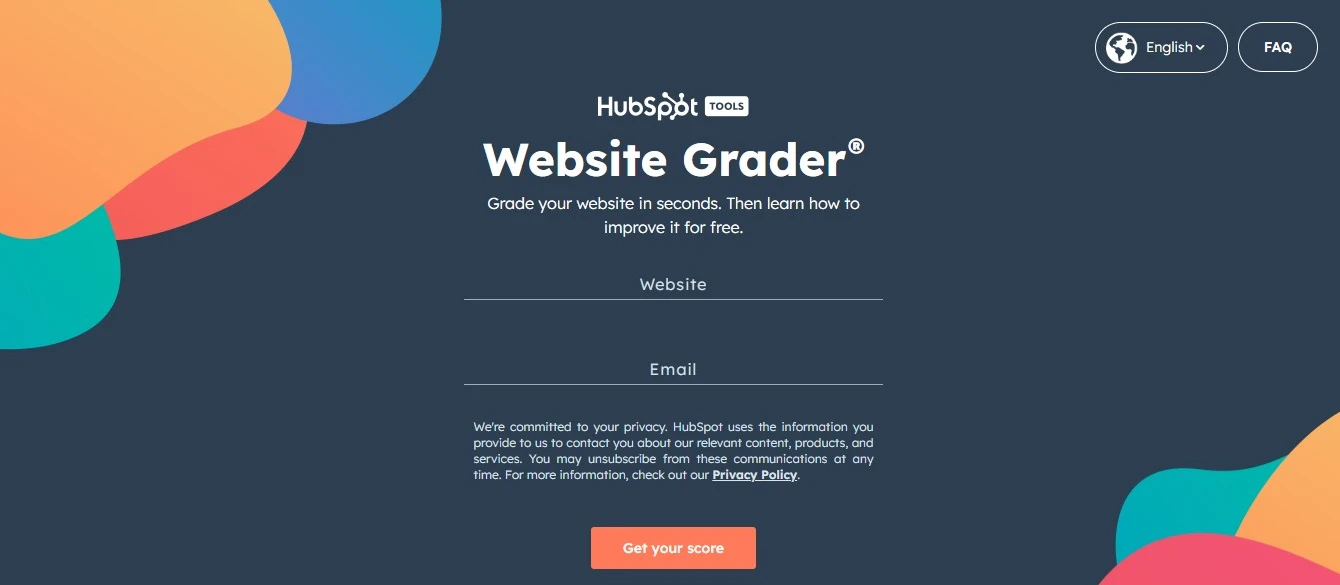 The HubSpot Website Grader is a free online tool that evaluates and assesses various aspects of a website's performance. You can use this tool for:
➤ Security Assessment: Security is paramount. The Website Grader looks for security vulnerabilities and SSL certificate status to ensure it is secure for users and search engines.
➤ Overall Website Performance Score: Simply enter your website URL to get a numerical grade, indicating how well it performs.
➤ SEO Analysis: HubSpot Website Grader examines your website's SEO attributes, such as meta tags, keywords, and other on-page elements. 
8. SEMrush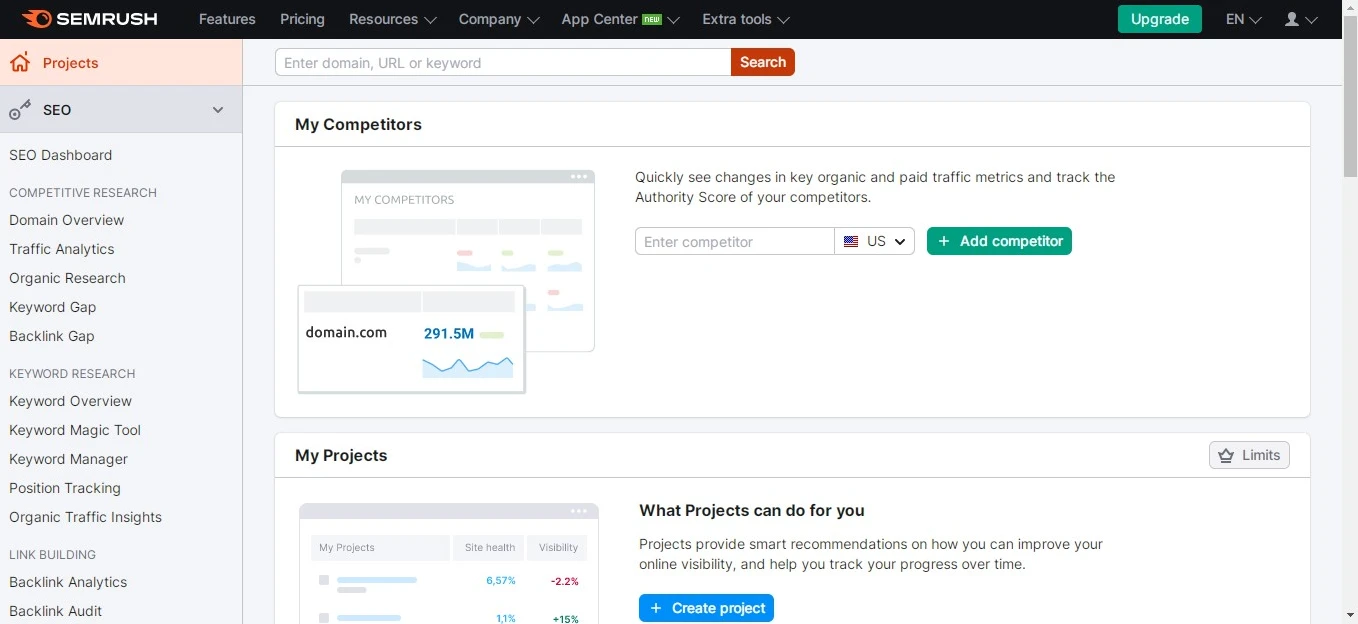 SEMrush is an all-in-one marketing reporting software that helps in website optimization for better organic search traffic. Leading brands like Booking.com, Quora, HP, and eBay use SEMrush to find which areas need to be optimized for more effective lead generation.
It offers numerous features as explained below:
➤ Keyword Magic tool: It is the most popular tool on Semrush, which is used to analyze specific niche topics, track semantically related keywords, and find which keywords could improve your website's overall SEO.
➤ Site audits: Evaluate your website's overall health using Semrush's Site Audit feature. It will list all the problems that explain in which areas your website is underperforming.
➤ Traffic analytics: You can use this tool to see where your website traffic is coming from, how your visitors are engaging with the website, and which devices they commonly use.
➤ Link building: SEMrush can be used to build high-quality backlinks from other niche-specific websites. It also allows the creation of outreach campaigns to attract backlinks.
9. Google Keyword Planner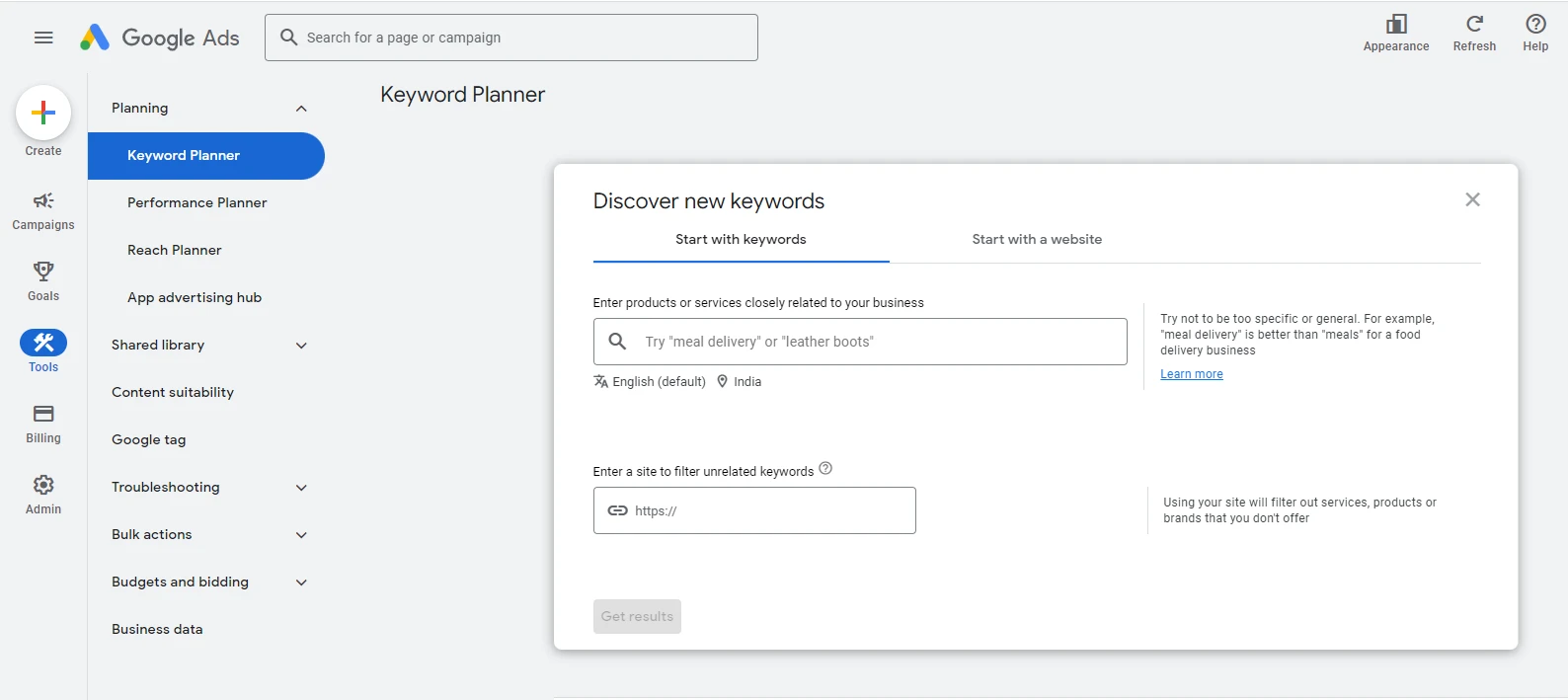 It is a free keyword research tool that you can use to do in-depth keyword research. Technically, Google Keyword Planner is a PPC (pay-per-click) advertising tool that finds keywords for your SEO strategy. Let's explore some of its benefits. 
➤ Monthly Search Insights: Gain insights into each keyword's approximate monthly search volume and check its popularity.
➤ Estimate Advertising Costs: This tool can be used to check the average cost required for your ads to show up when users search for a specific keyword.
➤ Keyword Categorization: Organize keywords into different groups or categories according to your brand. 
➤ Build New Campaigns: Use your brand-specific keyword plan to craft new campaigns.
10. Seobility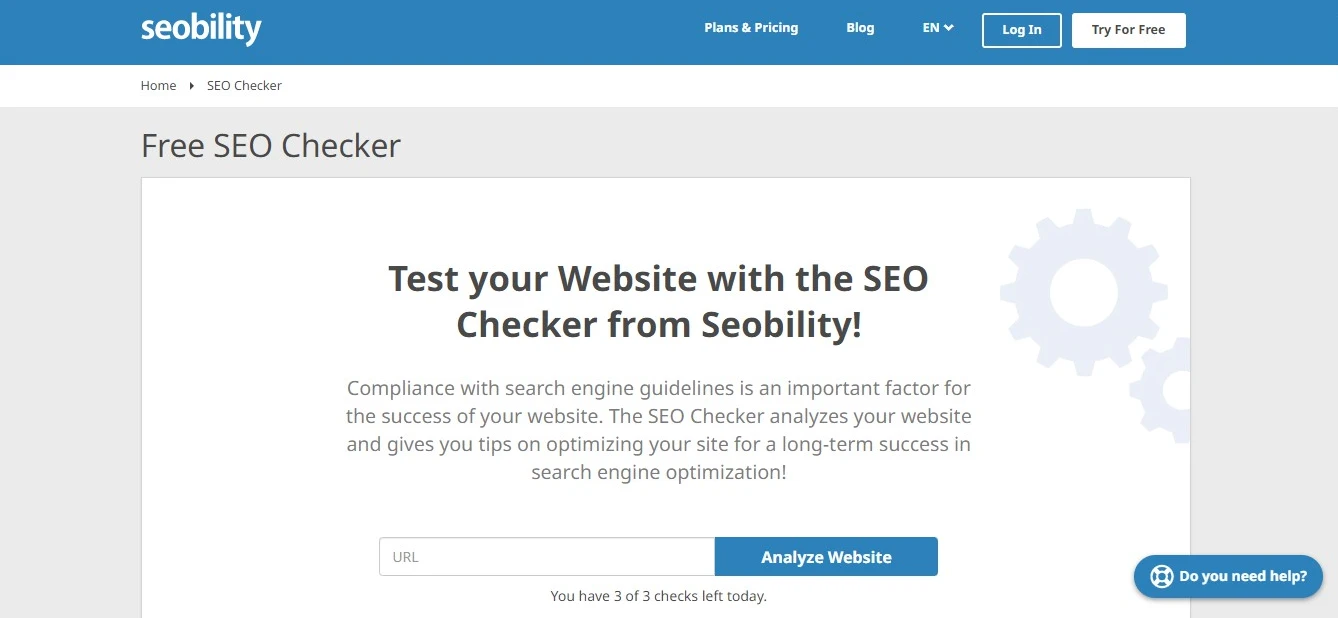 It is a free SEO-checker tool that evaluates your website's adherence to modern SEO standards. Seobility conducts a thorough analysis and provides valuable insights on enhancing your website's optimization. 
Below are some of its advantages: 
➤ On-Page SEO Analysis: Seobility checks all the on-page issues of your website, including meta tags, headings, image alt text, and content quality.
➤ Mobile Optimization: Seobility helps you ensure your website is mobile-friendly and responsive.
➤ Crawlability and Indexability: The tool helps you identify crawl errors, like broken links, missing pages, and issues that might prevent search engines from indexing your content. 
➤ Page Speed Analysis: You can check your website's load times with this tool. Along with that, it will also provide suggestions for improving the same speed.
Conclusion
In conclusion, whether you opt for free SEO audit tools or consider investing in a more comprehensive approach, the importance of analyzing your website's SEO cannot be overstated. 
However, if you are seeking a more comprehensive and detailed audit that exceeds what standard tools can offer, W3 SpeedUp is here to assist. 
Don't hesitate to get in touch for a personalized discussion about how our services can benefit your website's SEO journey!!