Migrating your WordPress website to a new web host includes completely moving an old website to a new one, there is always a huge risk when done without any professional knowledge. Your website can result in downtime, data loss, or any other performance issues if you are unfamiliar with the WordPress migration process. Therefore, it is crucial to know about different methods to do secure migration. This article will talk about the best WordPress migration plugins to safely move your site database, files, plugins, themes, and all the resources without worrying about downtime or even search engine rankings.
Fortunately, WordPress is a pretty versatile platform that supports many plugins that can help you out. To make things easier for you, you'll need to get help from migrating plugins to easily manage the transfer. 
What is WordPress Migration?
Migration is defined as the process of relocation of a WordPress installation including its parts from one server to another without affecting its functionality.  The WordPress migration involves moving two critical components of a website i.e., Files and Databases.
Migration can occur between:
Localhost WordPress website to live server

Changing the current hosting service provider to a different host

Moving website database from one domain to another

Moving website from a subdomain to a different directory
Read Also: Best WordPress Plugins for Table of Contents
8 Best WordPress Migration Plugins To Choose From
If you are looking for wordpress migration plugins, here is the list of best ones in the market.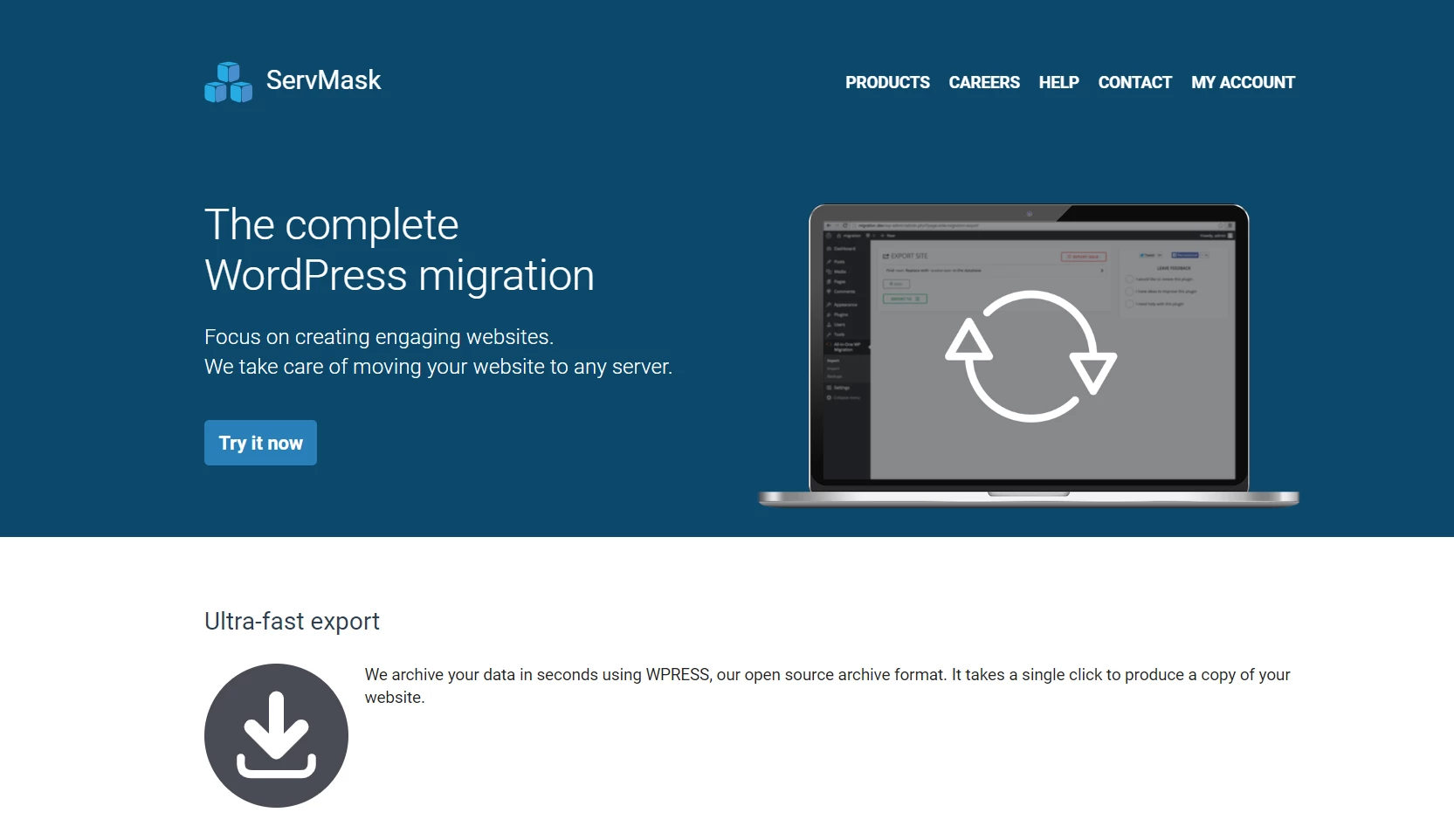 All In One WP Migration is an easy-to-use yet powerful WordPress migration plugin to help you migrate your WordPress website to a new server or domain name. It can handle all sorts of migration including the transfer of both databases and files. This plugin is well designed to work efficiently on all hosting providers.
The exporting and importing of all the data can be performed within 3 seconds. No matter what your host restrictions are, All in One WP Migration can smoothly migrate your site avoiding all the uploading restrictions. If your host restricts uploads to a certain max, the plugin would still allow migrating your entire site directly into WordPress.
You can also find new domain names using this plugin if you want to change your name. The free version of the plugin supports moving sites up to 512 MB in size. However, if the size of your size is larger, you'll need to choose the premium version which allows you an unlimited size limit.
The good news is, that All in One WP Migration is free for WordPress migration. On the other hand, the premium version of the plugin provides you with additional extensions to help you migrate your site to cloud storage such as Dropbox or Google Drive.
Pros:
Supports a wide range of WordPress hosting providers, operating systems, PHP versions, and more.

Supports older versions of WordPress

Bypass the host's file size limit for the
Cons:
The free

 version limits import size up to 512 MB

Manual WordPress installs on the new location

Paid extensions are needed for multisite exports
Prices: This plugin comes with both a free version and a premium version. The basic plan is free but an unlimited extension will cost you $69 to remove the import size restriction.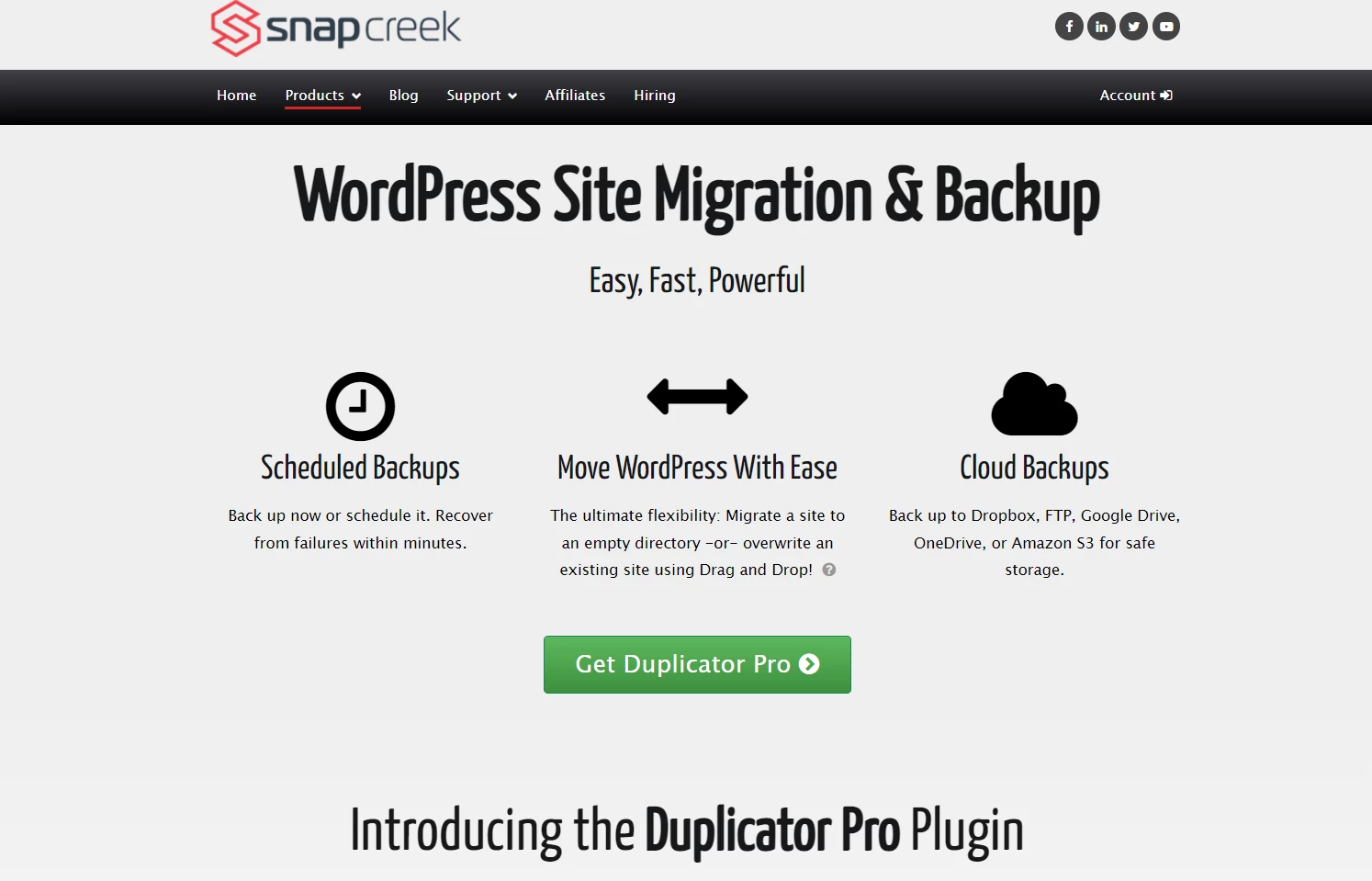 Duplicator is known for its flexibility and versatility which makes it one of the best WordPress migration plugins in the market. Not only does it help in standard migrations, but it can also handle cloning your site to a new domain name, setting up staging versions of your site, or simply creating a backup of your site for data loss protection.
Duplicator works by creating a package based on your current WordPress site. This package contains your existing site with an installer file to help you move your database to its new location. The free version of Duplicator can manage small to medium sites. But if you've got a massive site, the pro version would be best for you to handle large sites. Moreover, the pro version will also come with additional features at handy like automatic backups.
Pros:
Migrate WordPress site to a new host, domain name, local server, or live site.

Schedule backups and store them on cloud storage such as Google Drive, Dropbox, etc.

Connectivity with cPanel hosting dashboard to automatically create database and users.

Supports multisite migration of WordPress.
Cons:
FTP server connectivity can be difficult for beginners.
Price: While Duplicator is Free, the Duplicator pro version starts at $69 and unlocks extra features.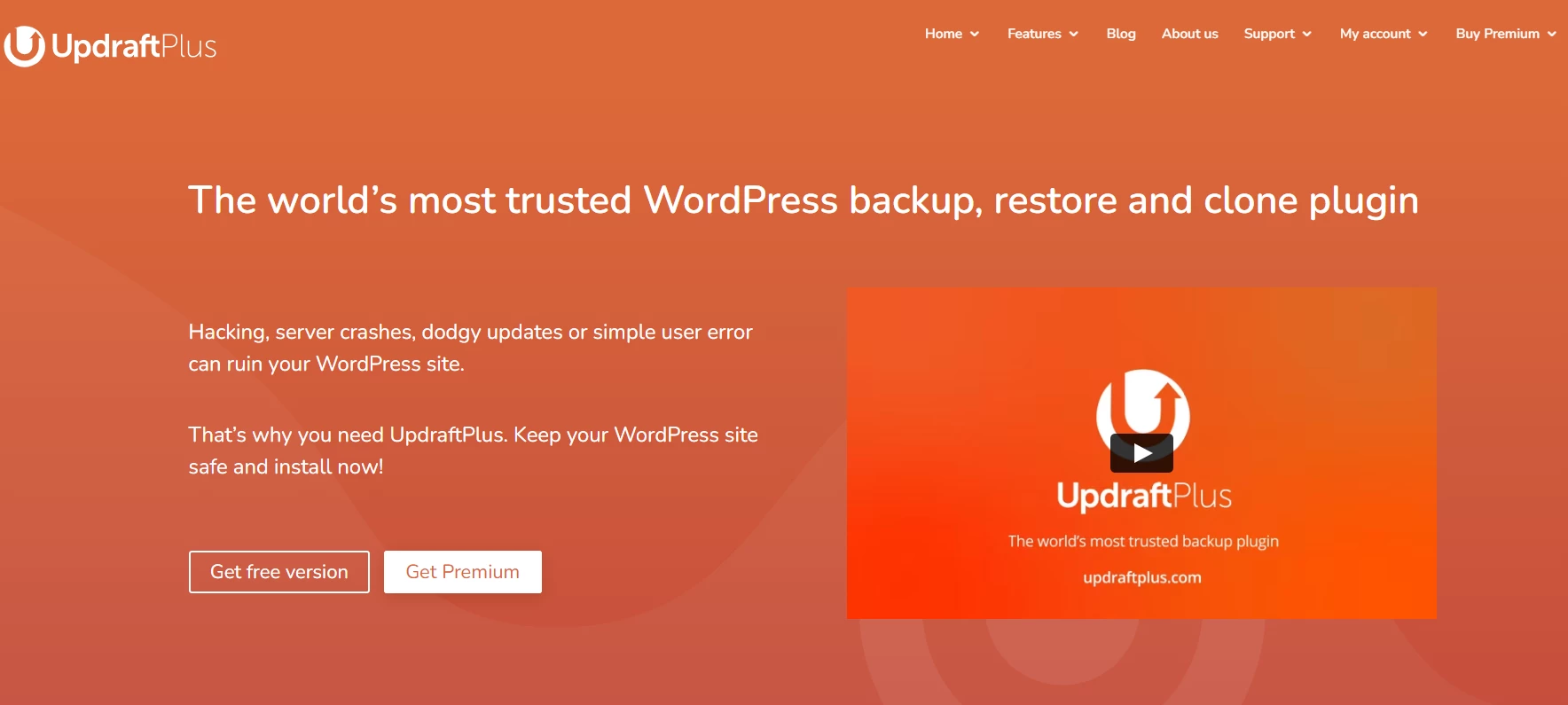 Updraft Plus is one of the best WordPress backup plugins which comes with WordPress Migration features. The plugin allows integration with cloud storage platforms like Dropbox, amazon web services, and google drive.
However, you don't get migration features in the free version. To clone and migrate your site, you need to pay $30 for the Updraft Migrator add-on that adds easy migration and cloning features. With the combined help of both the plugins, make your wordpress migration successful. First, take back up from updraft plus, and migrate using the updraft migrator plugin. If you're just moving hosts without changing the URLs, you can get this done with the updraft plus the free version. In case of changing URLs, you'll need to be paid Migrator to add on.
Pros:
Schedule and store your wordpress backups to remote locations

WordPress multisite network support
Cons
No migration support for free.
Price: For WordPress site migration, buy Migrator Addon at $30 and use it with the free version of UpdraftPlus. Alternatively, you can buy UpdraftPlus Premium for $70.
Migrate guru in one of the fastest solutions to the WordPress migration. This plugin supports multisite networks with a size transferable up to 200 GB. It is specialized in migrating websites to a new host or server and almost every web host supports the plugin. However, you don't get any features for backing up your site which usually is the part of Migration tools. With one-click integration, migrate guru makes it easier and faster than other plugins to move sites to other servers.
Pros
Free of cost for all users

Tested for great supportability with a large number of wordpress hosting providers, operating systems, PHP versions, and more.

Fewer chances of website crash because all the migrations are done on its servers.

Fast migration with just one click on the migrate button and all your data is migrated within a few minutes.

Supports over 5000 hosts throughout the world
Cons
No support with a local host to live website or live to local host transfers

Doesn't fully support multisite migrations
Price: Free to use.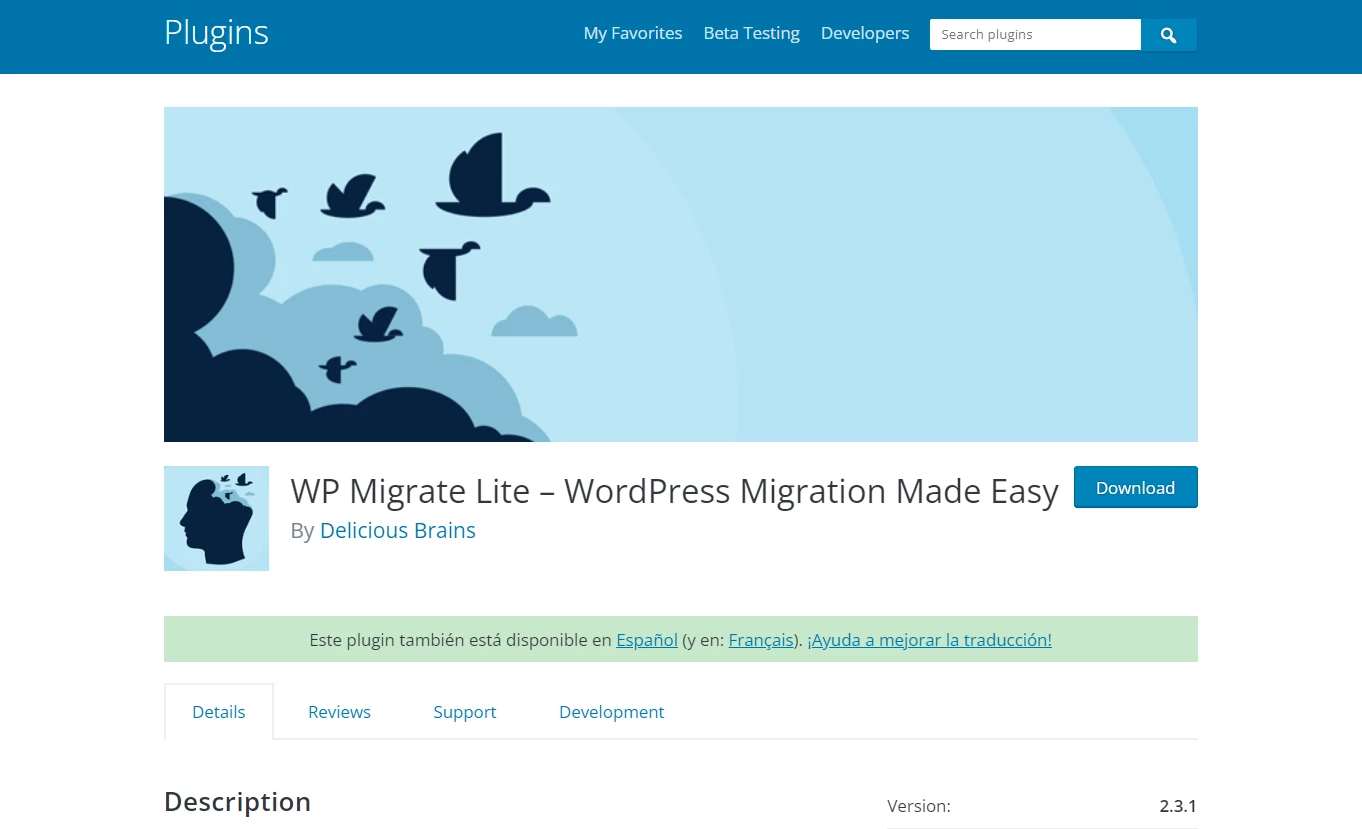 WP Migrate DP is another professional WordPress migration plugin designed to make it easier for exporting and migration of data. The plugin allows you to export the WordPress database into an SQL file and import it into the new server via phpMyAdmin.
When it comes to functionality and interface, it is a simple to use migration solution. You can export your website database as SQL to your local server and then import it back to a live site after migration. Oftentimes, migrating data comes with a great risk of data corruption. Therefore, WP migrates DB and replaces the file path and URLs when processing migration. This reduces the risk of data corruption.
Pros
Rest assured with full database download and move it to other places.

Many Add-ons to make migration customized.

Multisite add-on for migration of multisite networks to a single site at one go.

Media files add-on for migration of media files.

Exclude certain post types while migrating data.

Get the option to sync full media libraries between two websites with the premium version.
Cons
The free version of the plugin doesn't allow you with the entire migration of the website. Upgrade to the pro version of the plugin to have complete control over the migration.

Requires customers to have technical acumen of databases to use the plugin.
Price: The basic plan of WP Migrate DB starts from $49 for a single site and goes up to the premier plan at $219 for unlimited sites.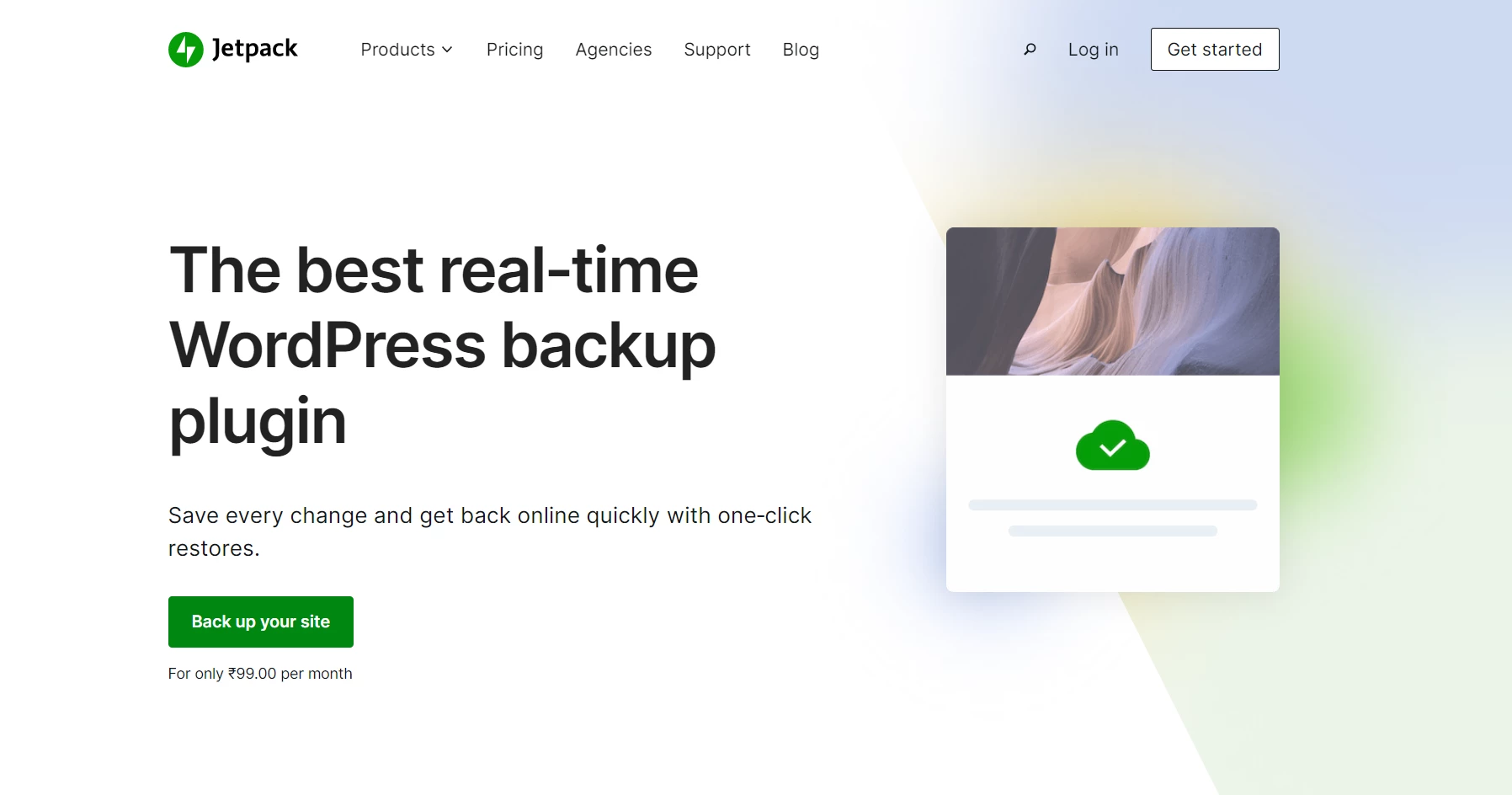 The jet pack offers a WordPress suite with a range of features and addons to manage your WordPress efficiently. Among many features like security scans, content delivery network, and social media automation, you get a complete backup solution. Jetpack backups allow you to easily restore your WordPress backups and migrate your website to new servers.
Pros
Backup from Jetpack is automated, saving you the time required in manual backups.

Get unlimited backup storage in jetpack which makes jetpack suitable for bigger websites.

Easy 1 click site restoration for quicker migrations.

Site security features for secured backups.
Cons
You'll get a migration feature and other additional features such as backup with the paid plan of the plugin.

The setup process is complicated, making it harder for beginners to start with the plugin.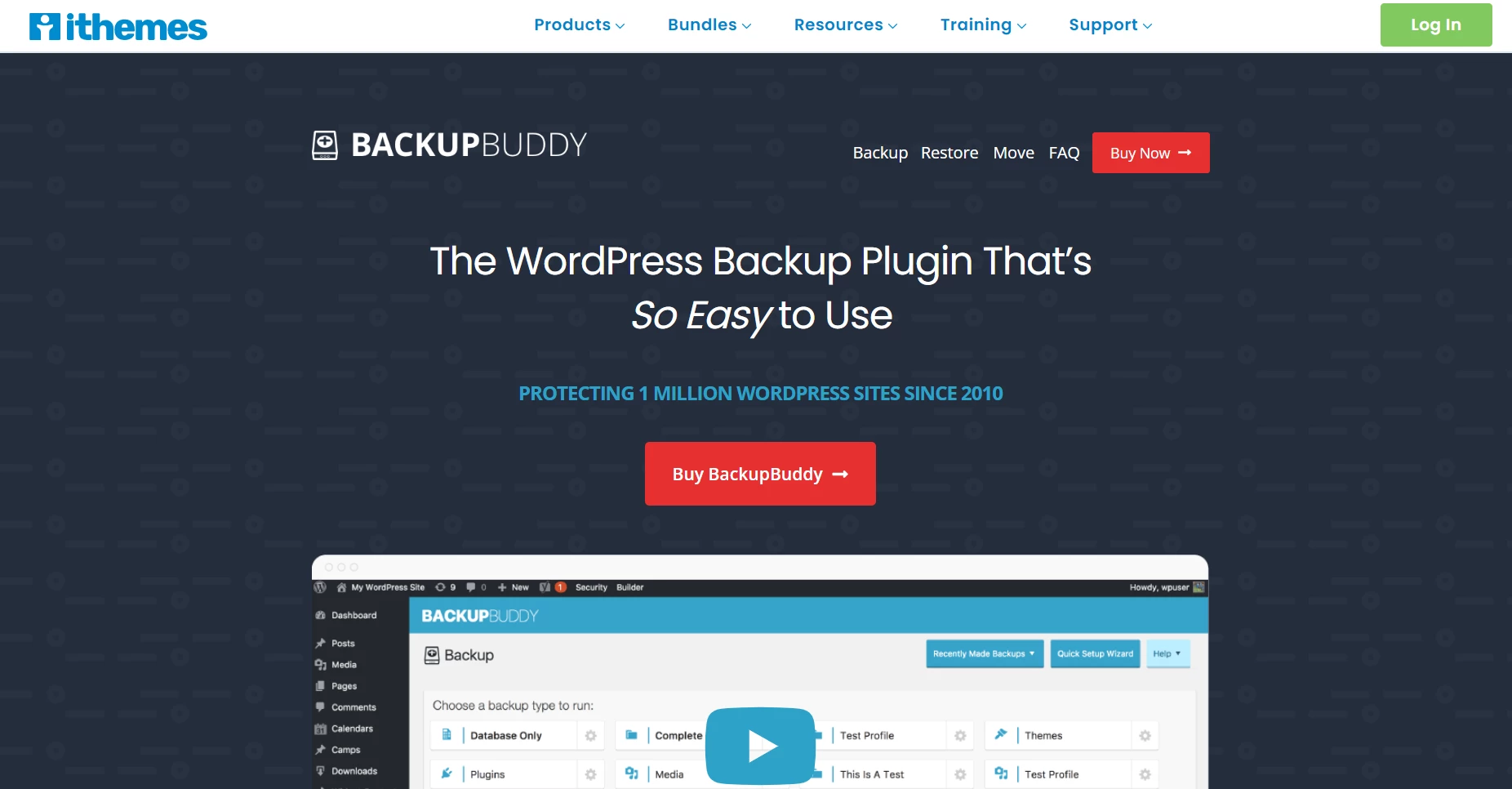 Backup buddy is another popular name in the migration and backup plugins which also comes with the features to manage WordPress backups, restore files, and move them to a completely new location. Backup buddy serves the purpose of backing up and protecting your site files. By integrating Import Buddy, you can ensure that all your files are restored on the same site or migrated elsewhere.
With a one-step process, you can also adjust the domain and replace URLs. The plugin comes with dedicated migration features to help you change hosts and servers in no time. On top of that, there is also cloning for developers and a tool to pull and push data to and from staging sites.
Pros
Dedicated customer support for users with premium backup and migration plugins.

You can Push and Pull content between staging and live sites.

Clone your WordPress sites with a click of a button.

WordPress Migration from backup buddy also follows the URLs replacement, or domains and host upgrade.

In addition to migration, it also provides you with site protection through serialized data, malware scans, and backups.
Cons
No free version is available for BackupBuddy.

No multisite WordPress support.

Beginners find it complicated to use restore and migration features.
Price: The paid version costs you $52 for one website.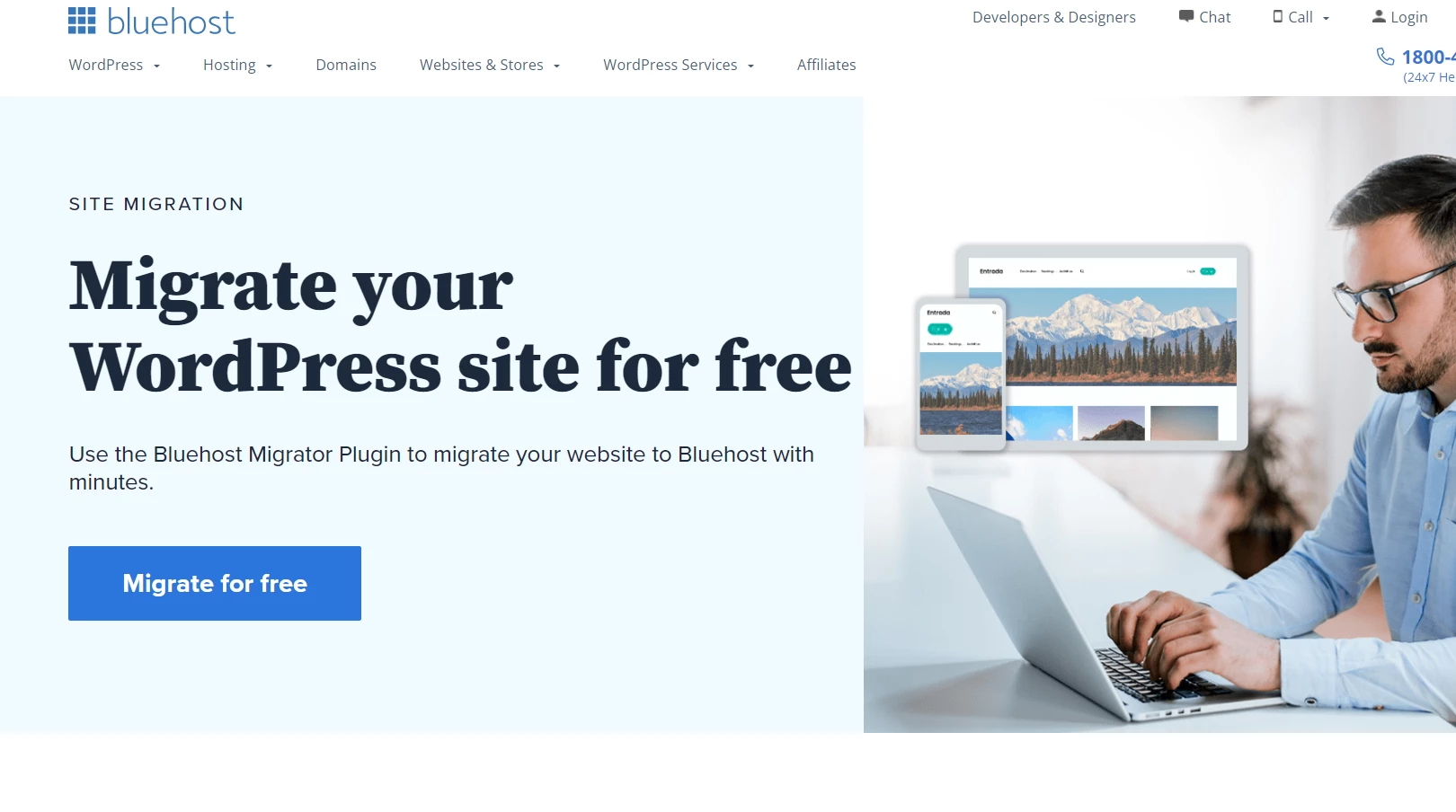 Bluehost is a well-known hosting service provider for companies in the market. They are one of the most reliable WordPress hosting providers trusted by thousands of happy customers. If you want to migrate your WordPress site to Bluehost, then Bluehost Migrator is the plugin to help you out.
Pros
Easy to use a plugin, simply enter a token from your hosting control panel and the plugin will take care of the rest.

The plugin automatically creates a domain for transferred websites in case they don't have any domain.
Cons
Doesn't allow localhost to live site transfers.

Does not support WordPress multisite.
Price: Free to use
FAQ's
1. Why site migrations are important?

Answer – There are many reasons which make site migration important. Here are some of them:
Better value

: Migrating your website to a new hosting that is offering better value for the money.

Better customer support

:

Responsive and helpful customer support adds a great value to improving your WordPress website management experience.

More hosting resources and features:

WordPress

migration to hosting with more resources and features is vital to scale your WordPress website.

Better Server Security:

With backup and migration to a new host can help you protect your significant database. It also plays a big part in protecting your site's credibility and visitors' privacy.
2. What Makes a Migration Plugin worth installing?
Answer – If you are wondering what makes a migration plugin worth buying or to install on your WordPress site, take a look at some of the essential benefits of an excellent plugin:
 

Easy-to-use features

 

Comprehensive to complex scripts & data

 

Help create backups

 

Allow storing data on cloud services

Budget-friendly Prices
3. How to Migrate Your WordPress Site to New Host
Answer – Here are some methods you can use for WordPress migration:
Migrate Your WordPress site with the help of a hosting provider
Many web hosting companies come with free migration services for moving sites to their server. They have in-house experts who are experienced and skilled at performing a migration with precision without any loss of data.
Web hosts also provide periodic backups to leave you hassle-free from backing up every single file.
Migrate WordPress Using Plugins
You can always use one of the many WordPress migration plugins available if you don't want someone else to migrate your website. This makes your manual migration hassle-free and keeps you in control of the entire process. WordPress plugins make the process a lot faster and help you take backups, and download and transfer the site files for you.
Migrate WordPress manually
Migrating your WordPress website requires expertise to be performed with no harm. You need to be well versed with each and every step it consists of, whether it is backing up or uploading.
It starts with a backup and moves every aspect of your site – database, themes, plugins, and all the files. Once the backup is created, all you need to do is upload them to a new server using an FTP tool such as FileZilla.
However, migration seems a straightforward process, it needs a certain amount of time and effort. Also, manual migration often leads to technical issues and errors which could affect the entire migration process. Thus, it is mostly recommended to use WordPress migration plugins to avoid downtime and other problems.
4. How to choose the best WordPress Migration Plugins?
Answer – It is often consuming when choosing the best WordPress migrator for you. There are a few characteristics you need to keep in mind including:
Plugin Ratings and Reviews

Customer Support

Update Availability

Features and functionality to serve the right solution
5. Is Your Migration Plugin Can Cause Performance Issues?
Answer – Migration plugins are often the cause of performance-related issues such as downtime or many other errors because they work with the files and database of the site. Therefore, keep in mind checking plugin reviews and choosing the plugin which is compatible with your site hosting.