Are you looking to scale up your e-commerce platform? The best WooCommerce plugins can help you boost conversion rates and increase sales in 2023. Getting consistent sales online is not as easy as it sounds. Make sure to enhance your online store with the best quality customization and scalability possible.
WooCommerce is one of the most reliable eCommerce systems used by millions of users. What makes it more powerful is its plugin integration to add extra features and make online selling successful.
However, there are thousands of free and premium plugins available in the market, and choosing the most suitable plugins could be a daunting task. Thus, we have decided to list down the best WooCommerce plugins that will help you make more money from your website traffic.
The Best WooCommerce Plugins
The best WooCommerce plugins, extensions, and add-ons are helpful to make your marketplace worth it. Focus on the right plugins which can provide your shoppers the best experience, keep them engaged, and return to your site while also making it easy to keep your site up to date.
Here is the list of the most popular and reliable plugins to configure your WooCommerce store on WordPress.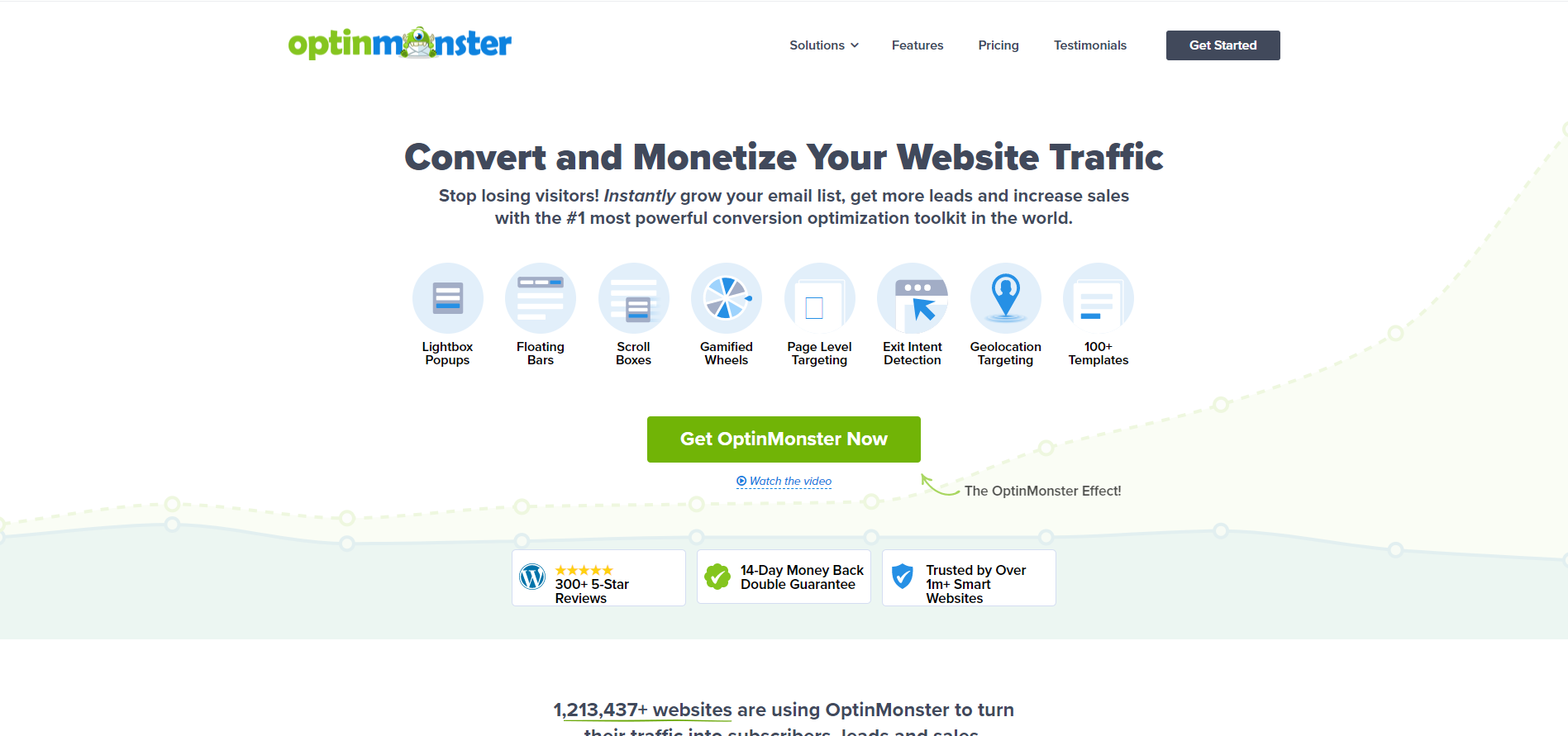 OptinMonster is a powerful conversion, optimization, and lead generation software. It offers great customization features that help you convert your site visitors into subscribers and potential customers.
It comes with powerful features that allow you to grow your email list, boost your site conversions, and achieve business goals.
OptinMonster eCommerce solutions help you reduce cart abandonment which eventually increases your sales with the use of onsite retargeting and creating personalized messages.
That means it gives you the freedom to create beautiful Optin forms and strategize to make site visitors either buy a product or subscribe to your list.
Furthermore, it also allows you to do A/B testing and compare different options with variations in headlines, content layouts, and styles, and then know which worked best for you. Thus, you can always test and use the most converting options to increase your conversions.
Pricing:
Optinmonster comes with powerful customer acquisition & lead generation features in its premium paid versions:
| Plan | Price |
| --- | --- |
| Basic | $9/mo |
| Plus | $19/mo |
| Pro | $29/mo |
| Growth | $49/mo |
Check the Latest Price and Features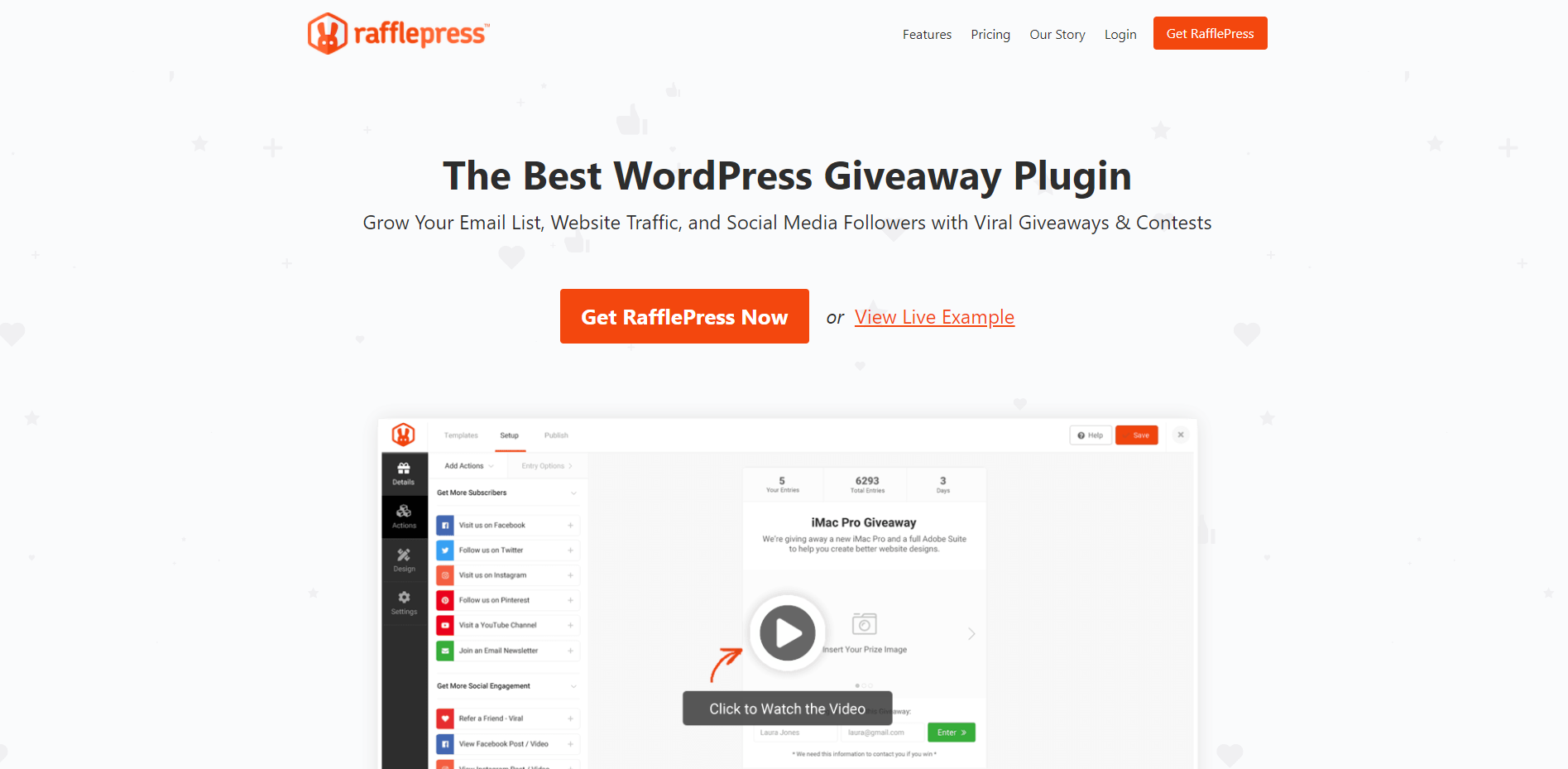 Increasing social media followers can help you boost eCommerce sales. A great way to increase social followers and improve engagement is by running a giveaway contest.
RafflePress helps you with giveaways. It is the best WooCommerce plugin to create giveaways. With RafflePress, you can quickly create compelling giveaways for your WooCommerce store.
It can help you make the contest highly engaging for your users. For instance, they can share your content on social platforms, follow your profiles or invite a friend.
The plugins allow you to set the start and end date of the giveaway and help you announce the winner of the contest.
And the best part is, RafflePress offers protection against malicious attempts and entries with social verification actions.
Pricing:
You can buy RafflePress and create top quality giveaways with business growth in mind:
| Plan | Price |
| --- | --- |
| Ultimate  | $499.50 /one-time |
| Growth  | $199.50 /year |
| Pro  | $99.50 /year |
| Plus    | $39.50 /year |
Check the Latest Price and Features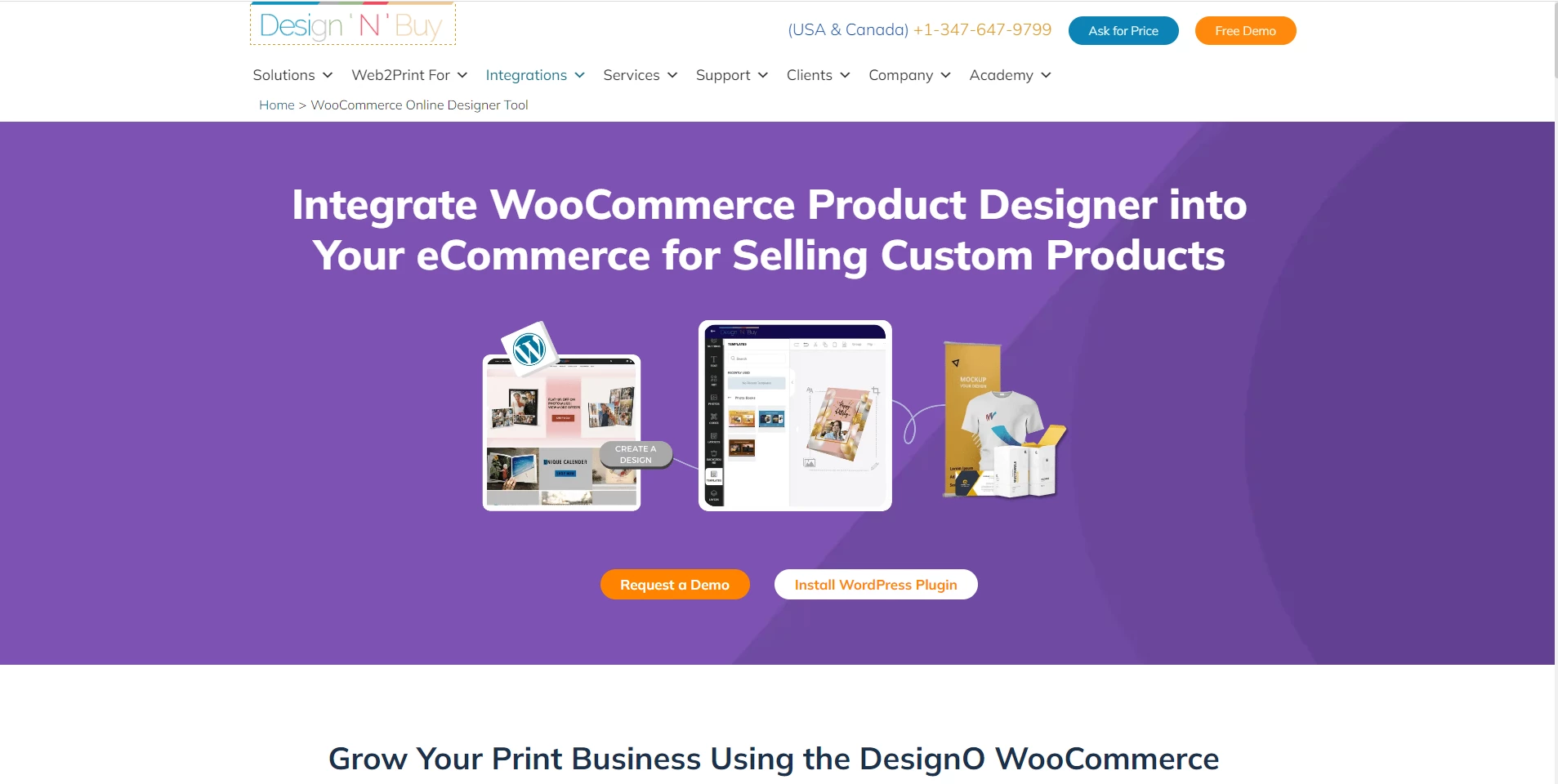 All in One SEO is by far the best WooCommerce plugin to improve your SEO strategy. It's a great tool to leverage your SEO tasks in order to make your WooCommerce store more visible on search engines like Google.
If you require a complete WooCommerce Product Designer Tool, the DesignO by Design'N'Buy option is perfect for your business. With the help of this WooCommerce product designer plugin, your online store can provide customers with the option to add their own distinctive touch to a variety of items like t-shirts, business cards, banners, and more. This is particularly useful for printers who focus on selling customised print products online. Text, photos, and colours are simple to incorporate into these goods, allowing customers to rapidly express their creativity. Additionally, to jumpstart their design process, anyone can use pre-made templates.
This wordpress web to print plugin integrates seamlessly and effectively with your woocommerce store, ensuring order management, workflow management, job management. This extension makes it simple to manage product designs and orders through your store's admin panel, making it an obvious choice for companies looking to sell customized products online.
Features:
Open source platform and ready to integrate API
All device Responsive Design Tool with advanced editing options such as text, circular text, image editing, background removal, color detection, multipage editing, QR codes, auto-fill, layouts, layer management, and  more
Ready digital assets with preloaded templates, clipart, font, and more
Live 2D and 3D preview with actual size preview
Support custom-size products such as large format products, packaging, and more
order, job, and workflow management
24*7 customer support
Form-based quick editor for limited personalization
Variable data printing option for mass customization
Check the Latest Price and Features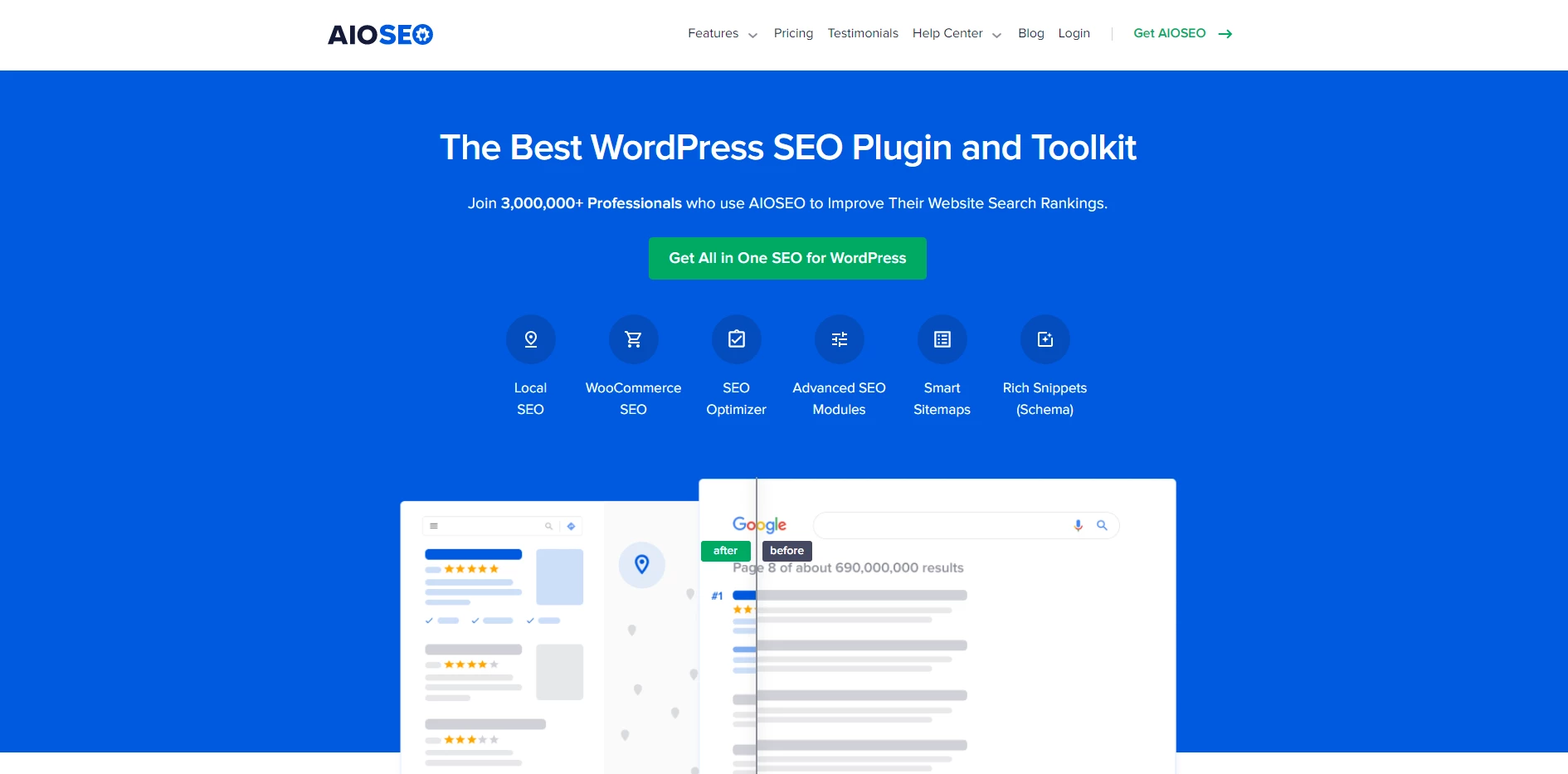 All in One SEO is by far the best WooCommerce plugin to improve your SEO strategy. It's a great tool to leverage your SEO tasks in order to make your WooCommerce store more visible on search engines like Google.
Every aspect of the optimization has a major purpose i.e., improving user experience and bringing in more customers.
Therefore, with ALL IN ONE SEO, you can create better content and follow the best SEO practices. The right SEO plan won't just provide you with organic traffic to your site but also the right kind of traffic.
All In One SEO helps you achieve this using a site audit checklist, smart XML sitemaps, on-page analysis, and much more.
The eCommerce store is mostly about product pages. All In One SEO provides you with a special feature specifically designed for WooCommerce product pages SEO. Make sure to optimize your store product pages so as to make your customers connect faster or even attract new users.
The key features of All-in-One SEO include On-page analysis, Local SEO, WooCommerce SEO, Setup Wizard, Smart XML sitemaps, etc.
Pricing:
All in One SEO is perfect for business owners, bloggers, designers, developers, photographers, and basically everyone else. You can choose your desired plan according to your requirements.
| Plan | Price |
| --- | --- |
| Basic | $49.50/year |
| Plus | $99.50/year |
| Pro | $1999.50/year |
| Elite | $299.50/year |
Check the Latest Price and Features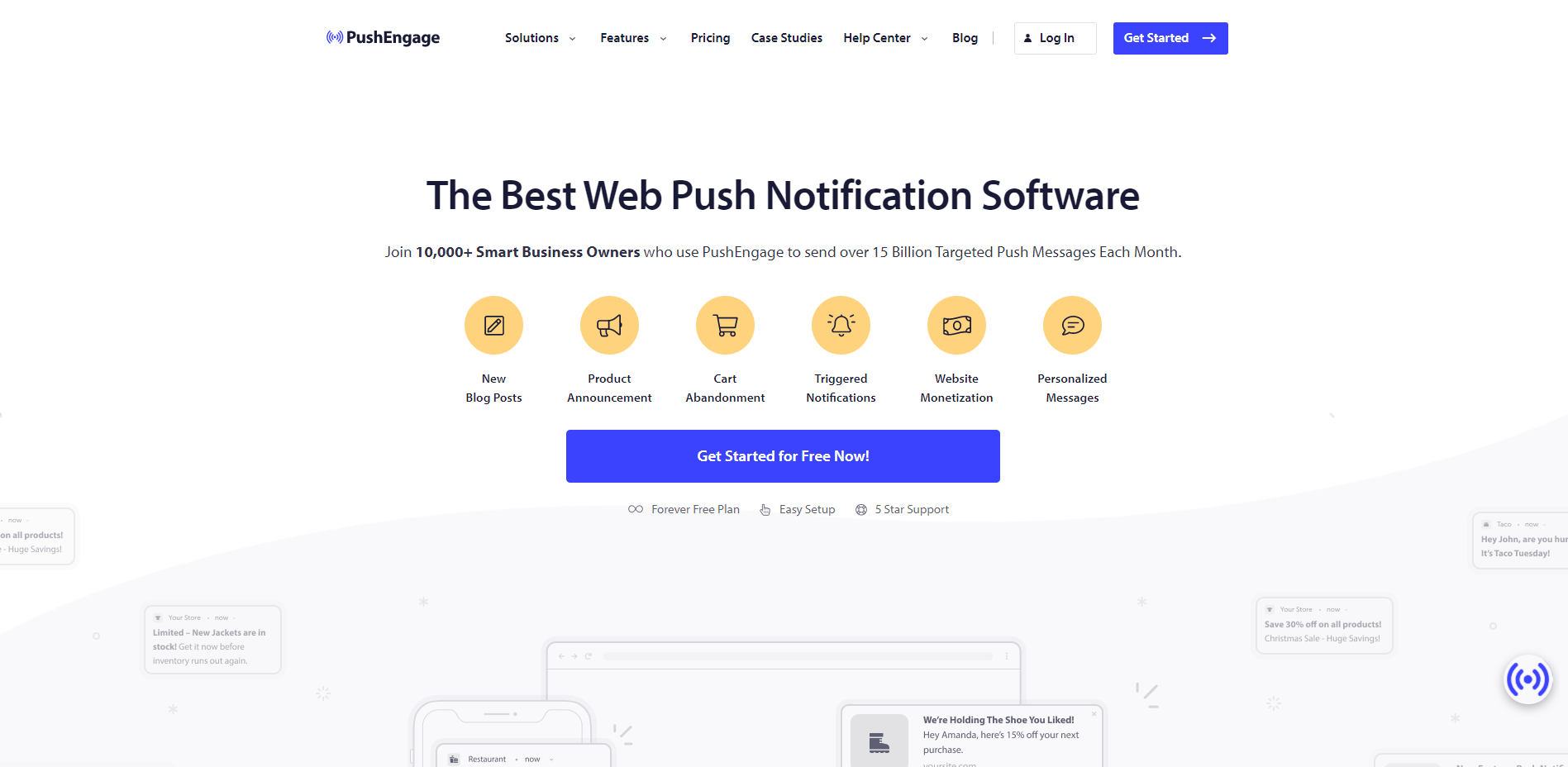 Push notification conveys the necessary messages to your users which makes them come back to your WooCommerce store and take action. To help you with push notifications, PushEngage is the best push notification WooCommerce plugin in the market.
Push notifications will send messages to the users' browsers on mobile or desktop which can even drive your lost customers back to your site.
For instance, whenever you launch a new offer on a product, publish a new blog post, send abandoned cart reminders, alert customers to a price drop, and much more.
So, setting up push notifications with PushEngage is simple and as quick as it takes a few minutes. Moreover, it comes with other powerful features like segmentation, triggered notifications, automatic drip campaigns, offline messages, and A/B testing.
Pricing:
PushEngage has a freemium WordPress plugin version. However, if you need more than limited features you can go for paid versions.
| Plan | Price |
| --- | --- |
| Business  | $9/month |
| Premium | $29/month |
Check the Latest Price and Features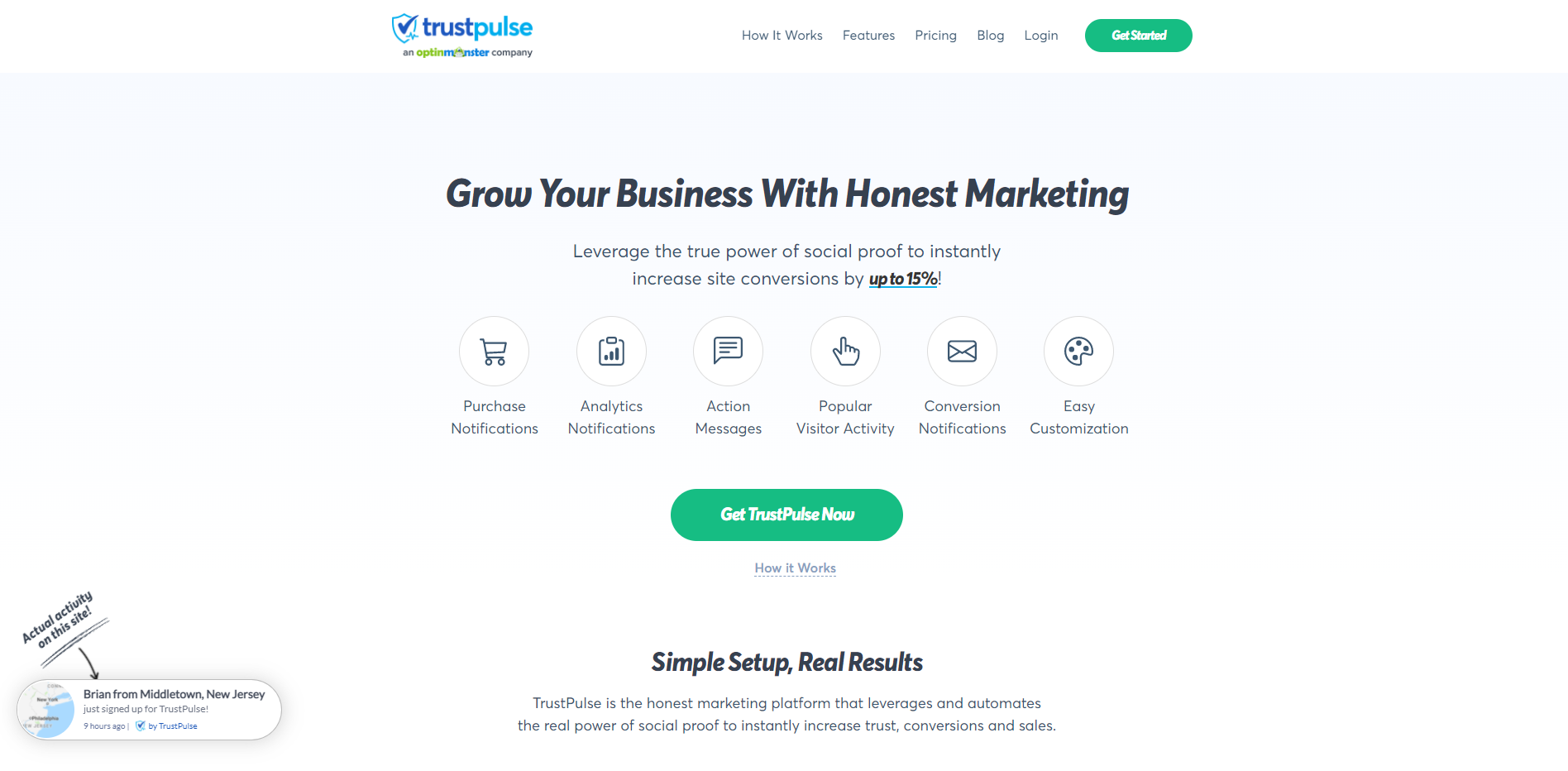 TrustPulse is a social proof WordPress plugin to build trust with your site visitors. It shows the real-time activity of the users in the small notifications. When making purchase decisions, trust plays a big role. In fact, new shoppers are more likely to trust more on recommendations from other shoppers over advertising.
TrustPulse takes advantage of this and uses real activity from people to increase your site conversions by up to 15%.
Key Features:
Real-time tracking of purchases, registrations, and signups.

Advanced targeting rules and timing controls help you do smart targeting to boost conversions.

Drop-down menus, text input, and color wheels make modifications easy.

"On-fire" notifications to show how many people are taking action in a given period.

Designing features to match your website branding.

Analytics to gather data you need to boost conversions.

Easy setup on any website without coding.

With these features, TrustPulse became the best WooCommerce plugin to boost sales.
Pricing:
Trustpulse comes with varieties of plants with a range of pricing structures & its features:
| Plan | Price |
| --- | --- |
| Basic | $5/month |
| Plus | $10/month |
| Pro | $19/month |
| Growth | $39/month |
Check the Latest Price and Features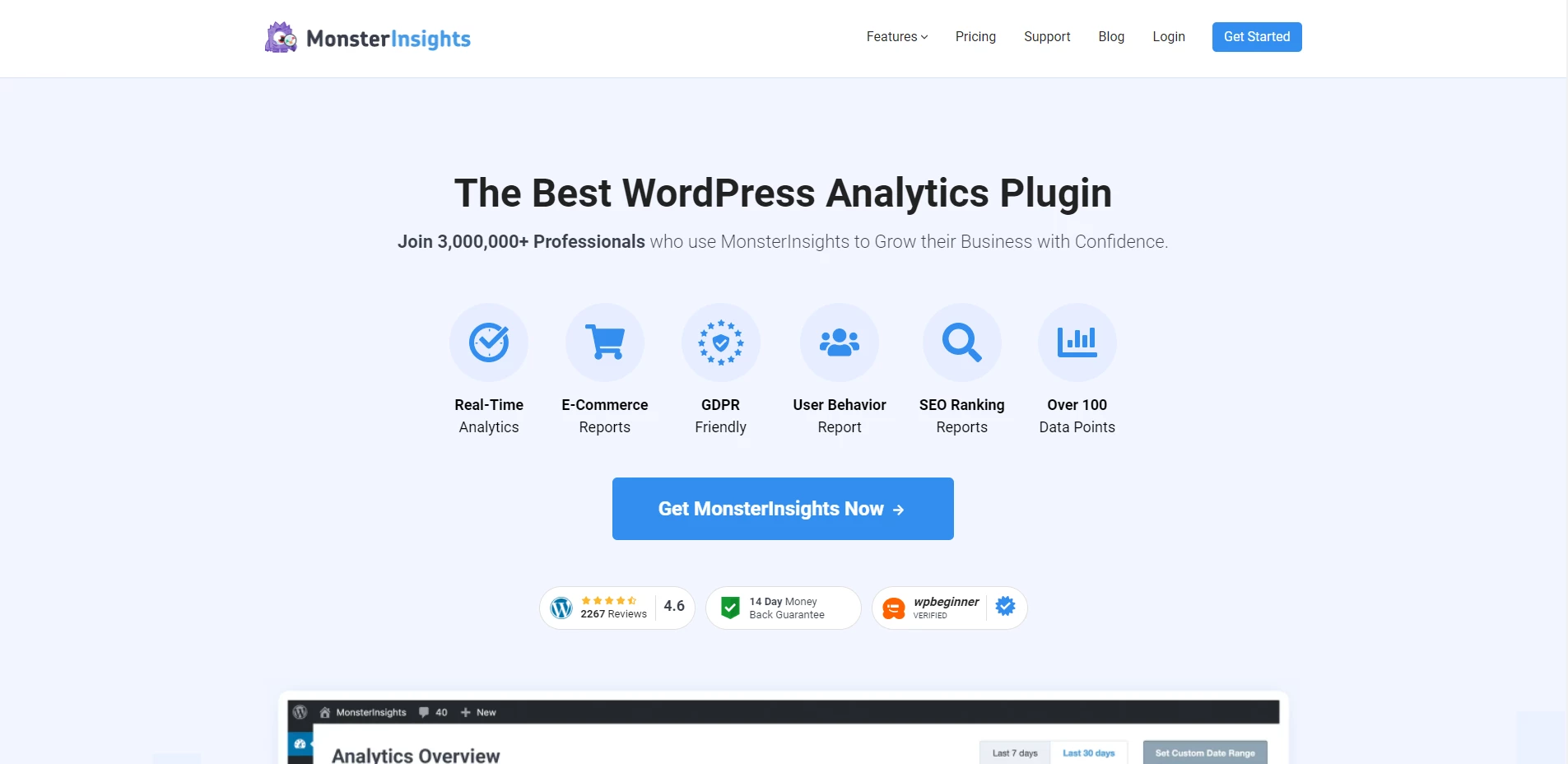 Monster Insights helps you track website performance with the use of data you need such as conversion rate, transactions, revenue, average order value, and more.
It is a great WordPress plugin that allows you to easily set up universal website tracking and WooCommerce conversion tracking across various devices and campaigns within a few clicks.
Using the plugin, you can have real-time tracking of your users on the site. You can also use it to track affiliate links and ad clicks.
MonsterInsights comes with page-level analytics which provides you with more detailed knowledge of your website activities. You can use this feature to have a detailed insight into each page and post separately and make sure your eCommerce site performs as it should.
You'll also get more advanced features such as a/b testing, speed optimization, and data delivery.
Pricing:
Premium MonsterInsights Plugin has great features and a wide range of supportability to help you with WooCommerce Analytics. Here are the different pricing plans for you:
| Plan | Price |
| --- | --- |
| Agency | $399.50/ year |
| Pro  | $199.50/ year |
| Plus  | $99.50/ year |
Check the Latest Price and Features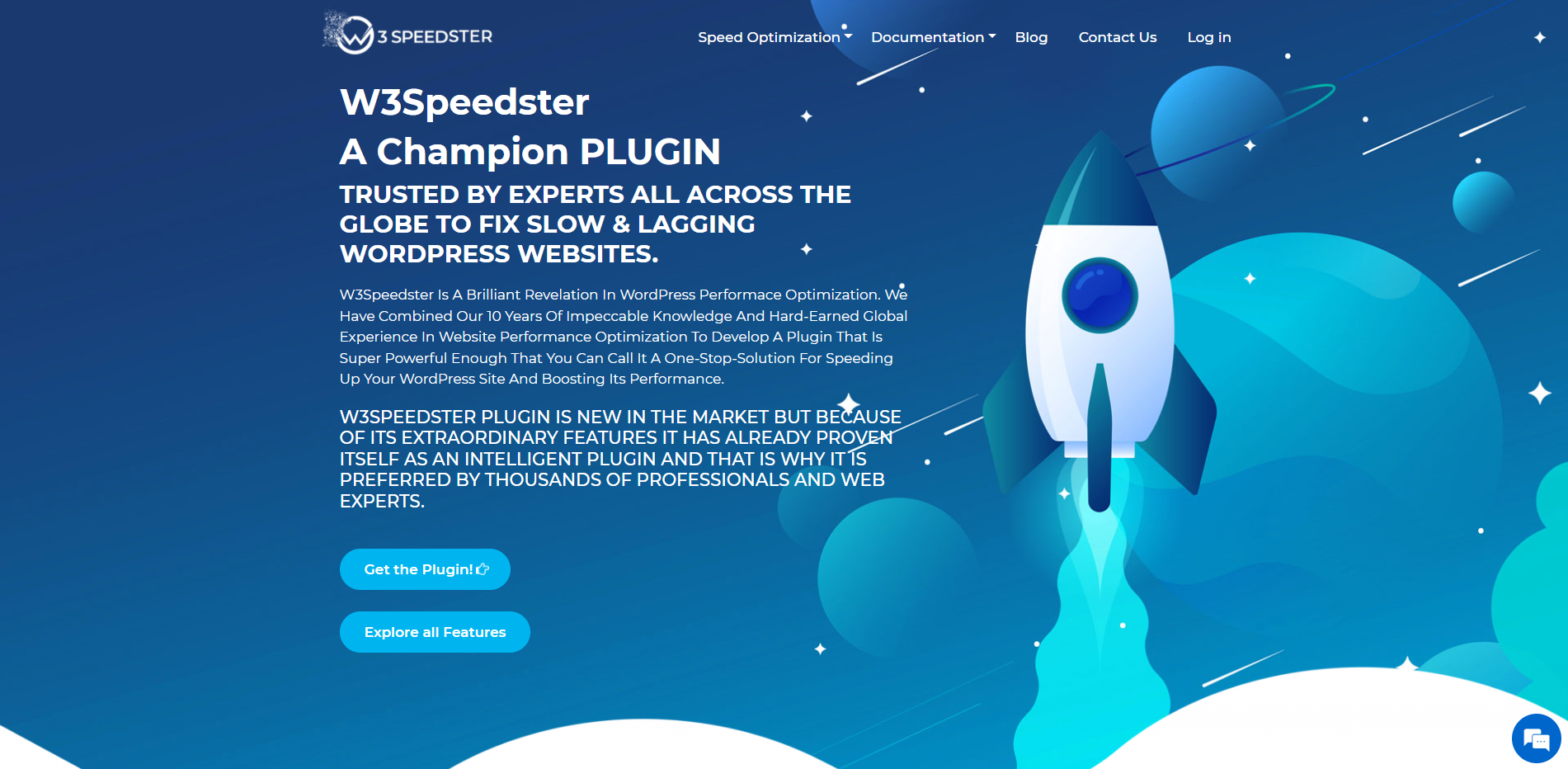 If your store's visitors experience your website slow, they are more likely to leave your website in an instant. Eventually, it impacts your conversion rate negatively and increases your bounce rate. The search algorithm has confirmed that a slow speed of a website can even affect your search engine ranking. 
So, Is there a plugin to help you boost your web page loading? Yes, if you are wondering how to speed up your WooCommerce website, the W3speedster plugin is a perfect solution for you. It is a WordPress speed optimization plugin designed to fix speed-related issues with top-notch built-in features. 
Here are some of the best-automated features provided by W3speedster to help you solve speed-related issues quickly:
 Reduce JS, CSS, and HTML files via minification

Speed up load time

Facilitate lazy loading for

image optimization

without losing quality

Create a web cache in just one click

Allow Gzip Compression

Integrate caching solution with a CDN

WEBP support optimizing JPEG and PNG images

Instant Support for advanced solution

Leverage browser caching
Pricing:
W3speedster plugin comes with three plans with different supportability:
| Plan | Price |
| --- | --- |
| Sole Optimizer | $40 – One year of support and updates for 1 website |
| Triple Booster | $100 – One year of support and updates for 3 websites. |
| Multi Achiever | (Developer Plan) – $250 – One year of support and updates for 50 websites. |
Check the Latest Price and Features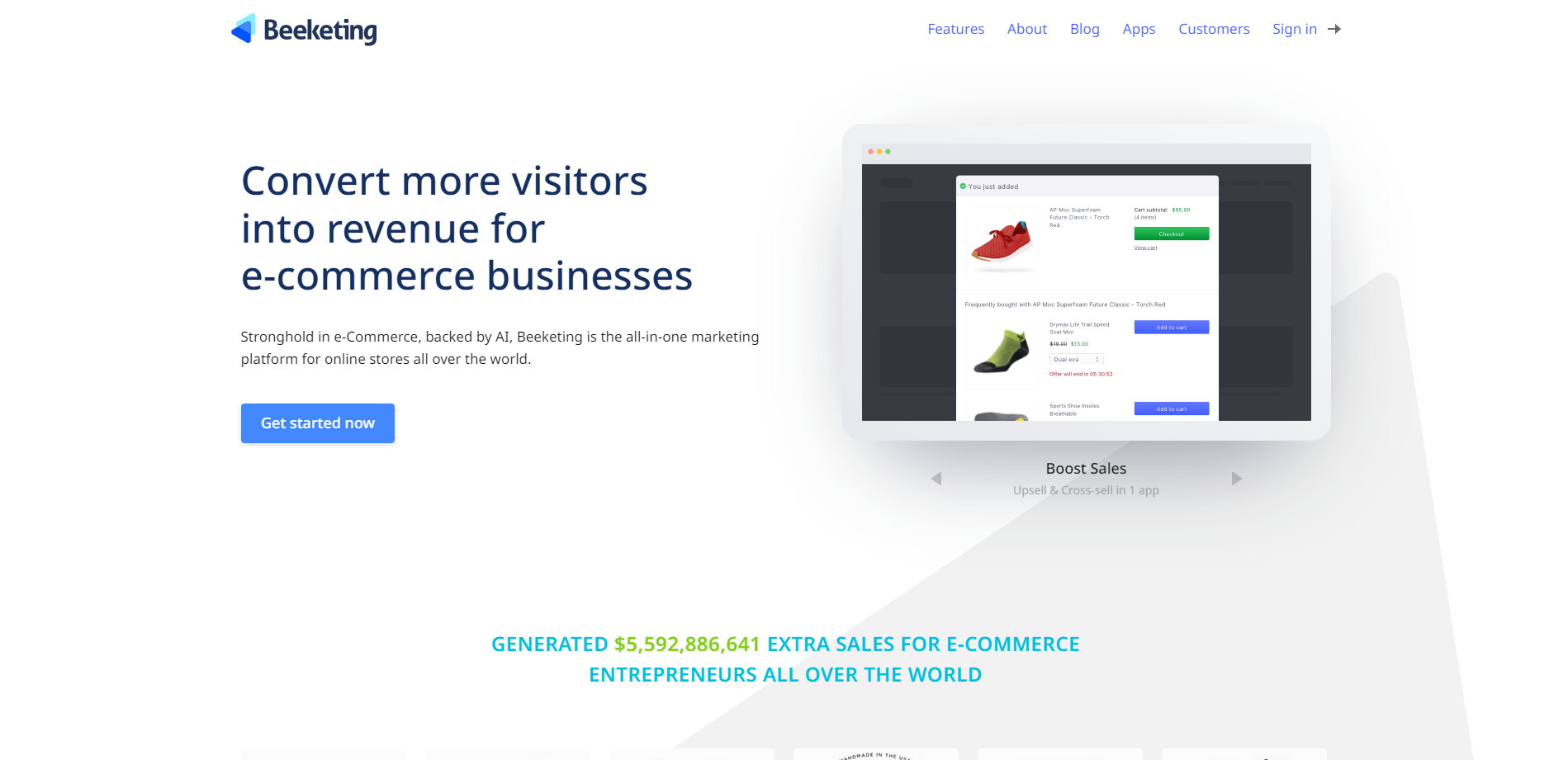 Optimizing conversion rates helps you boost online sales. Beeketing is a great WooCommerce designed to automate marketing and help you increase average order value, prevent cart abandonment and boost online sales.
It comes with 10+ built-in apps to optimize conversion rate. Moreover, its upselling and cross-selling are worth your use to market your WooCommerce store.
Key Features:
Upsell and cross-sell

Create product bundles

Easy to Chat with WooCommerce customers

So, if you're looking for the best WooCommerce plugin for upselling, Beeketing is worth a look.
Pricing:
Beeketing has a free version which means that the plugin is provided for free. Many powerful features are free as well, but premium features are charged between $19 to $30 per month.
Check the Latest Price and Features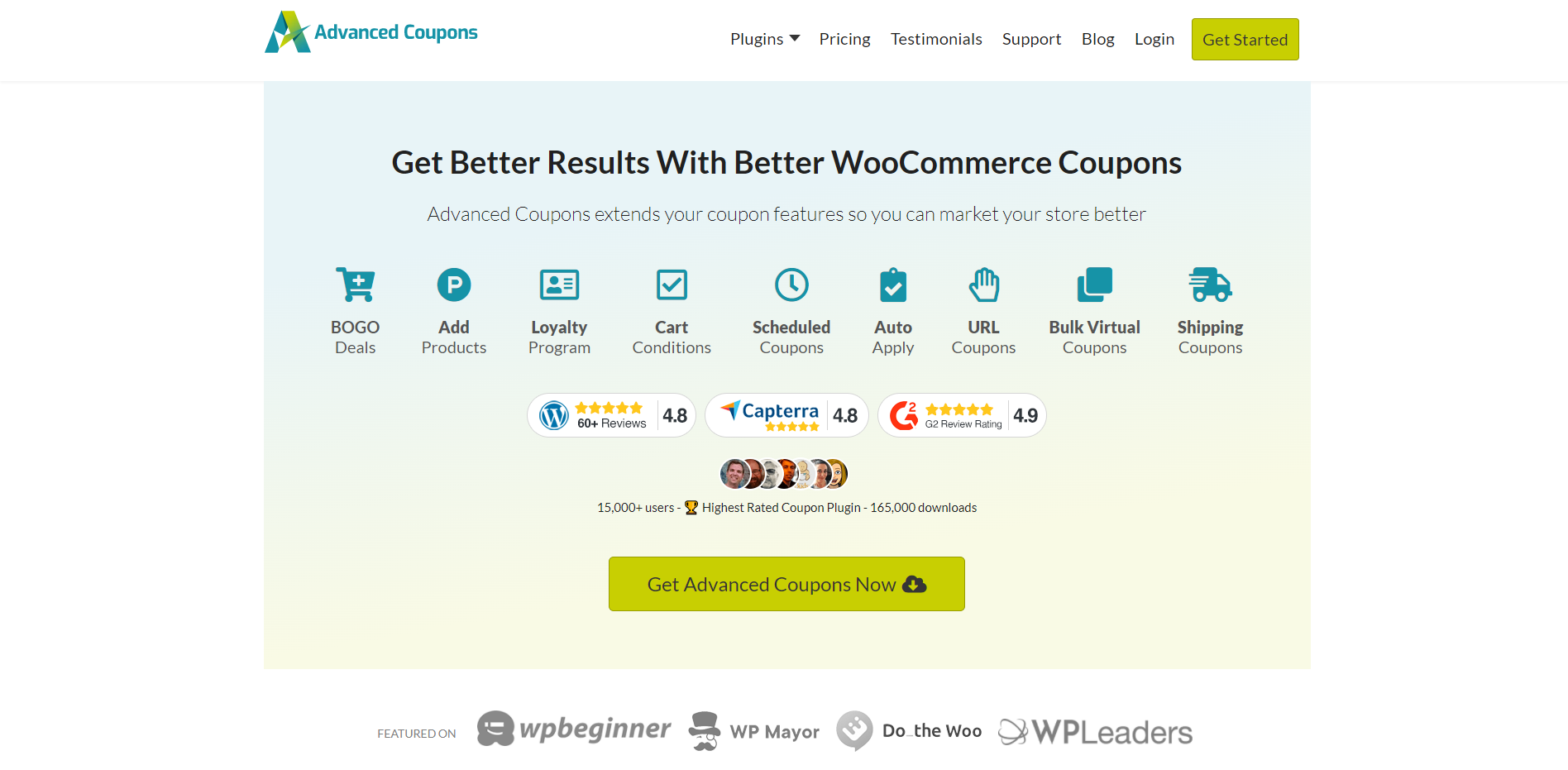 Advanced Coupons is one of the best coupon code plugins for WooCommerce. It can help you optimize the WooCommerce coupon options and create coupons for your customers.
This plugin integrates with WooCommerce perfectly to implement advanced features such as:
Buy one get one offer

Coupon URLs

Scheduled coupons

Auto-apply coupons

Shipping coupons
The best part is, the advanced coupons plugin has easy-to-use functionality and helps you boost online sales. You can use the free version of the plugin with limited functionality.
Pricing:
Make your WooCommerce coupons better at plans of Advanced coupons below:
| Plan | Price |
| --- | --- |
| Business | $99.00/ year |
| Growth  | $50.00/ year |
| All-In-One Bundle | $199.00/ year |
Check the Latest Price and Features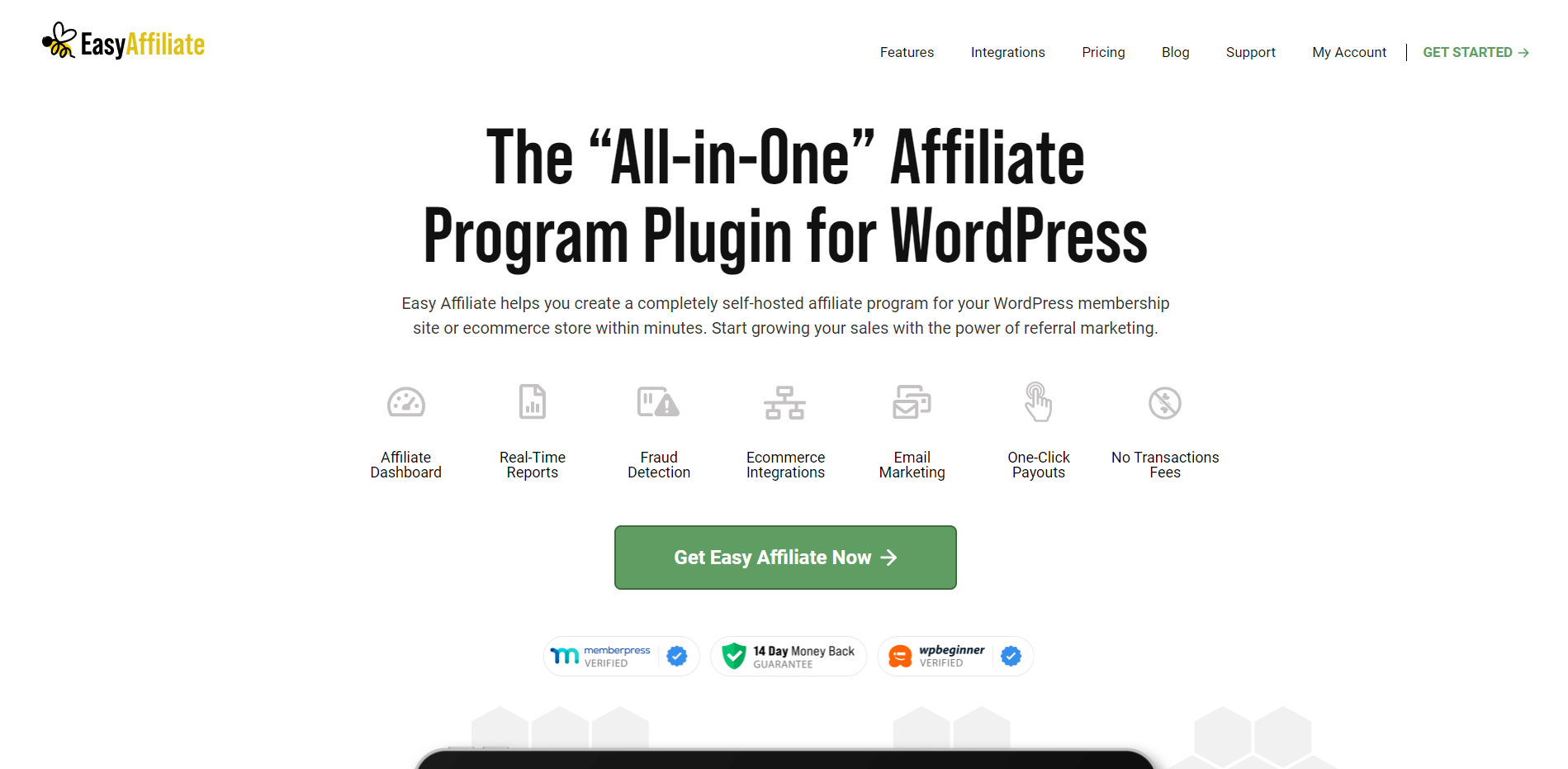 Referral marketing has proved to have a great impact on boosting your sales. If you want to create affiliate programs for your eCommerce store, Easy Affiliate can help you do it.
Easy affiliate is simple for creating an affiliate program and you can set it up in just a few clicks. Affiliates can monitor their stats, download their links, or even track their payments with the use of a built-in affiliate application process.
Some other powerful features include:
Commissions tracking

1-click payouts

Custom link generation

Fraud detection

Email marketing integration.
Pricing:
Start affiliate marketing on your WooCommerce website using reasonable premium versions of the plugin:
| Plan | Price |
| --- | --- |
| PRO | $199.50/ year |
| Plus | $149.50/ year |
| BASIC | $99.50/ year |
Check the Latest Price and Features
FAQs:
Q1- Why Do I need plugins for the WooCommerce website?
Answer- An eCommerce store requires a lot of management and regular optimization. To help you with customization and optimization for search engines, plugins are the best software you can have on your website. Plugins make your tasks easy and fast.
Q2- How many plugins should I use for my WooCommerce Store?
Answer- To maintain your website and boost your business sales & leads, you are free to install as many WordPress plugins as you need. However, many plugins could also slow your website. So, it's best to have on average 20 – 30 plugins installed. 
Q3- Are all the WordPress plugins free?
Answer- Not all WordPress plugins are free to use. There are hundreds of plugins available for free with limited functionality. If you want, you can also buy the premium and paid versions of the plugins to get the most out of your business. 
Q4- How do I update WordPress plugins?
Answer- To do so, go to the Plugins page and click on the 'Update Available' button. It will provide a list of all plugins with available updates. Select them all and then click 'Update' from the 'Bulk Options' drop-down menu.