Launching an online store has become a lot easier for businesses with the use of the WooCommerce plugin. But, before you open an eCommerce store with WooCommerce, you'll need hosting. You can't rely on a typical shared hosting plan to create a growing store with fast performance, better security, and timely support. That's why choosing the Best WooCommerce Hosting Providers would be best for you to succeed in the competitive digital world and focus on growing your business.
While there are hundreds of WooCommerce plans and providers to choose from, picking up a WooCommerce-specific hosting plan would be perfect to scale your online business and offer you more stability.
WooCommerce is the world's most popular eCommerce platform used by all sizes of online businesses. With WooCommerce hosting, you get the WooCommerce-optimized hosting solution equipped with eCommerce-ready features. To achieve the best performance results, you will also need the back-end servers to be optimized for WooCommerce for better performance.
As your online store scale, you will need to choose a hosting that can handle high traffic with no downtime. Thus, WooCommerce hosting will offer you all the necessary features to keep your store on track.
Top 6 Best WooCommerce Hosting Providers
We have compared and reviewed the best hosting providers in based on performance, security, and support. We'll talk about features, pros, cons, and pricing to help you what makes the selected list of companies the best.
1. Siteground – WooCommerce hosting loaded with the best features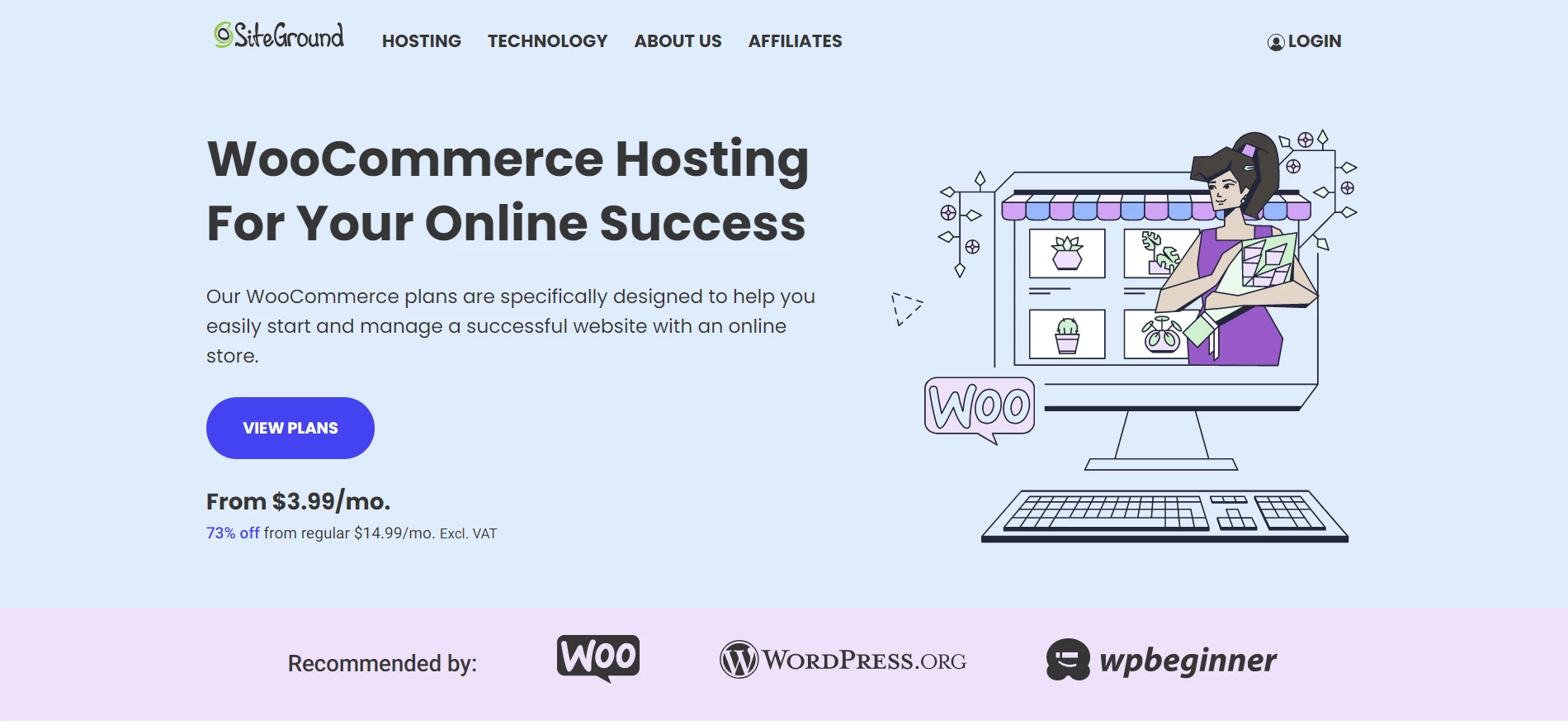 Siteground is one of the most trusted companies for WooCommerce hosting services and is known for its rich features to optimize your WooCommerce for performance, speed, security, and support. This Provider comes with pre-installed SSL certificates, daily backups, free CDN, and much more. Along with the top-notch features, it keeps competitive pricing for eCommerce start-ups to get them started at an affordable cost.
Siteground has designed a powerful security system with higher protection and security measures. AI Anti bots spam security system helps in blocking millions of spam daily. Plus, you get a range of freebies to make your stores more customized such as free CDN, free email, free SSL, free WP migrator, and installer.
WooCommerce hosting by Siteground promises 100% user satisfaction through 99.99% uptime, fast speed, and a supportive team of experts. In case you find any disappointment with the services, you get a 30-day money-back guarantee so as to provide you a complete refund if you don't not 100% satisfied.
SiteGround has been on upgrading its stack of WooCommerce-specific features, making your eCommerce ready for business growth.
Top Features:
Pre-installed SSL – Your WooCommerce hosting comes with a free encrypted SSL to make your online shop secure for payment transactions and make your site reliable for users.
Fully Automated and Managed Updates – Siteground handles WordPress and WooCommerce updates automatically to make sure your site runs on the latest version.
Daily Backups – this will allow you to take backups of each account daily. You can resolve site issues with a 1 click restore and avoid downtime.
Safe staging tool – The GrowBig and GoGeek plans provide a staging tool to help you develop your store safely by testing any changes on a staging site before making them live.
Firewall protection – The security team constantly updates the firewall protection with custom rules to keep your store safe from various site attacks.
AI anti-bot system – Siteground anti-bot system is highly effective in blocking millions of security threats daily.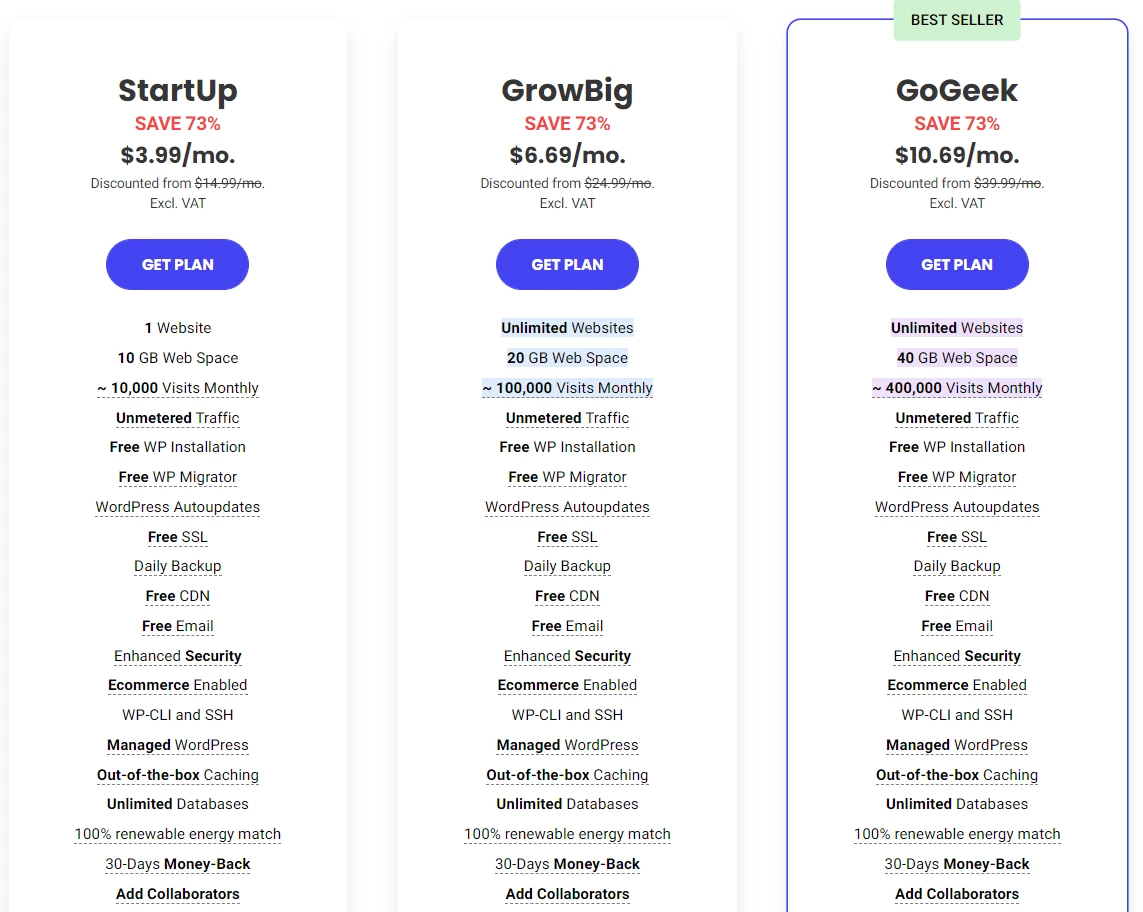 PROS
● Extremely Fast Performance
● Free Domain Name
● Free Daily Backup and Restore
● Free Let's Encrypt SSL
● Improved Server Restore Technology
● Proactive Server Monitoring
● Unique Anti Bot Artificial Intelligence System
● Last 30 Backup Copies Available for Restore
CONS
● Web Spaced Capped at 10GB – 40GB
● Higher Renewal Costs

Read Also: Hostinger Review
2. Bluehost – The best WooCommerce hosting provider for beginners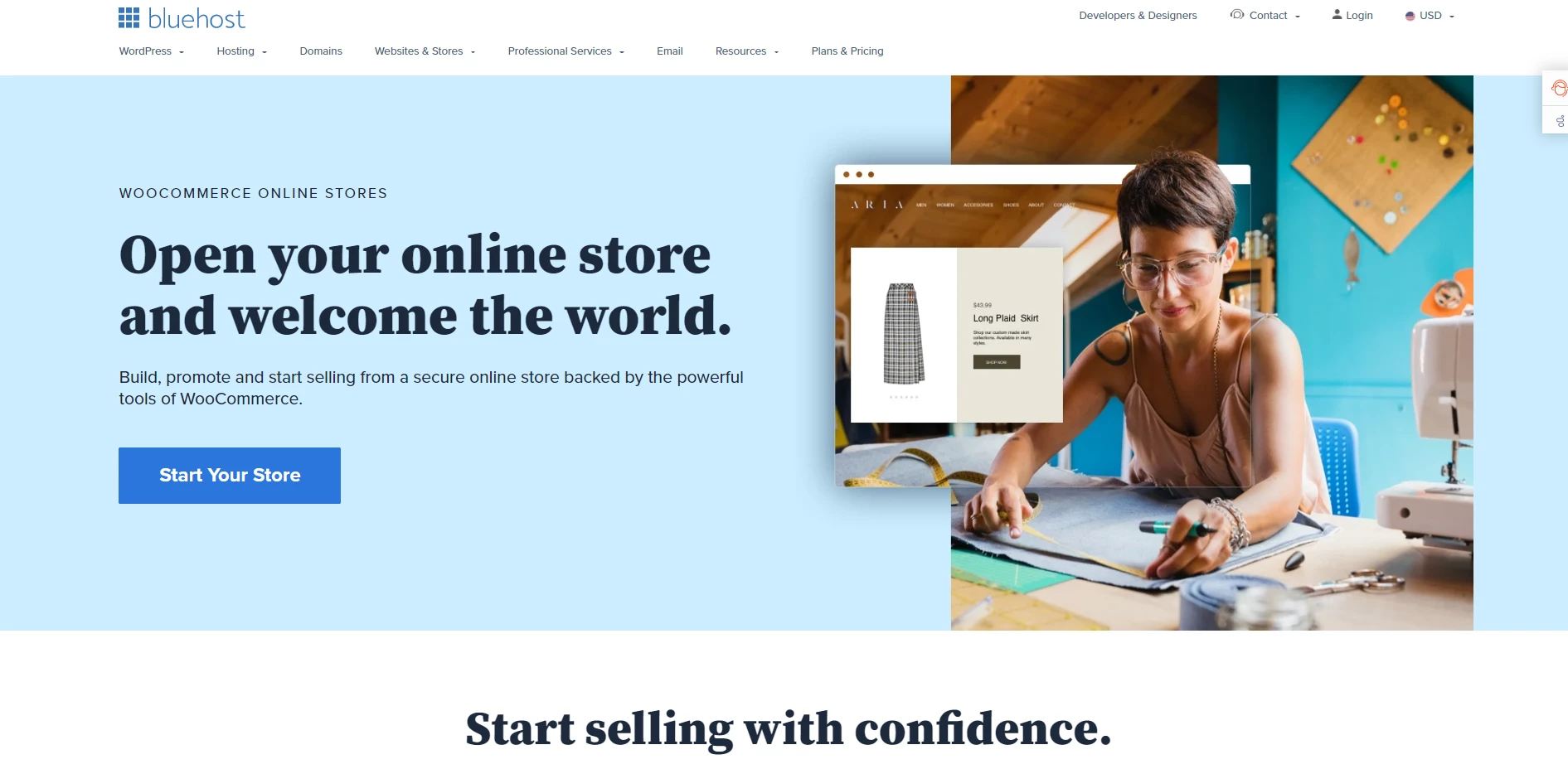 Startups and Beginners often find it difficult to kick-start their store on an above-average hosting plan. That's where Bluehost comes in. It offers affordable WooCommerce-specific hosting plans that come with pre-installed WooCommerce, a free SSL, and much more. This makes things a bit easier by simply adding products right away.
With Bluehost, there are no limitations to building a customized store. You get a variety of extensions and hundreds of free storefront designs to configure your store as you want.
Most of the features in Bluehost are 1 click install to allow you to add a variety of features so that you can focus on selling the product without having to worry about the technical side. Bluehost provides you with the best 24/7 chat and phone support to help you with any issues.
Bluehost also comes with a 30-day money-back guarantee to offer you a complete refund in case you are happy with the services.
Ease of use is a vital element for the success of Bluehost hosting. When it comes to usability, Bluehost comes with an interactive dashboard that is easy to use and manages a range of tasks such as updates, caching, etc. You also get access to cPanel and more advanced tweaks.
Top Features:
Free SSL – secures your online store with automatically encrypted transactions and visitor data.
Malware Detection and Removal – Bluehost creates a protective environment to allow you to detect malware attacks and remove them.
Storefront theme auto-installed – With Bluehost, you have auto-installed storefront themes and designs to choose the best one for your store.
Domain Privacy & Protection – It offers you domain privacy and protection to stay shielded from spam, identity theft, malware, and unauthorized changes to your site.
No Traffic Limits – Bluehost provides you unmetered bandwidth for fast performance on higher traffic without slowing down load times on your website.
Site Monitoring and Statistics – Monitor your site performance through statistics and customer behaviors to optimize your selling experience and increase sales.
CDN Enabled – Bluehost allows you to distribute the servers through CDN enabled.
Website traffic analytics – track your website traffic and make improvements as per your needs.
Bluehost has only two plans for WooCommerce hosting. Standard Plan provides you with all the basics to start selling online which will cost you $19.95/mo.
However, if you are looking for premium features such as online bookings, subscriptions, product customizations, and free domain protection, you'll need to pay $24.95/mo to buy a premium plan.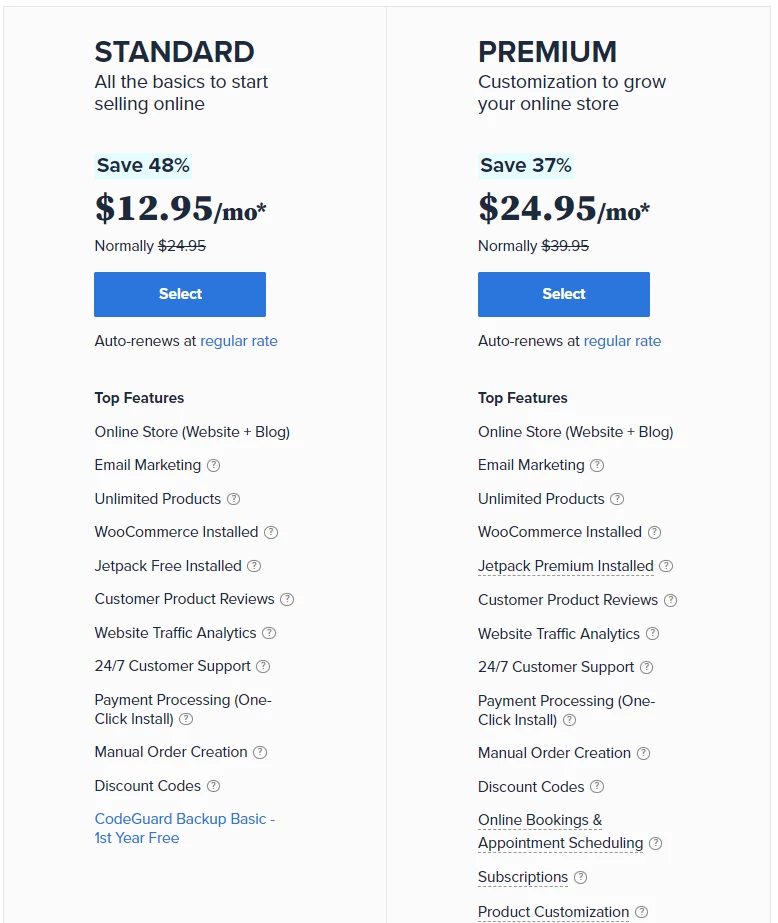 PROS
● High uptime and fast loading speed
● Reliable security
● Seamless WooCommerce integration
● Generous storage
● Unmetered bandwidth
● Free domain name for the 1st year
● 30-day money-back guarantee for all hosting plans
CONS
● High renewal rates
● No free website migrations
● Free Domain protection is available only in the premium plan
● No email-based support
3. WPEngine – Best WooCommerce Hosting Provider for Large Stores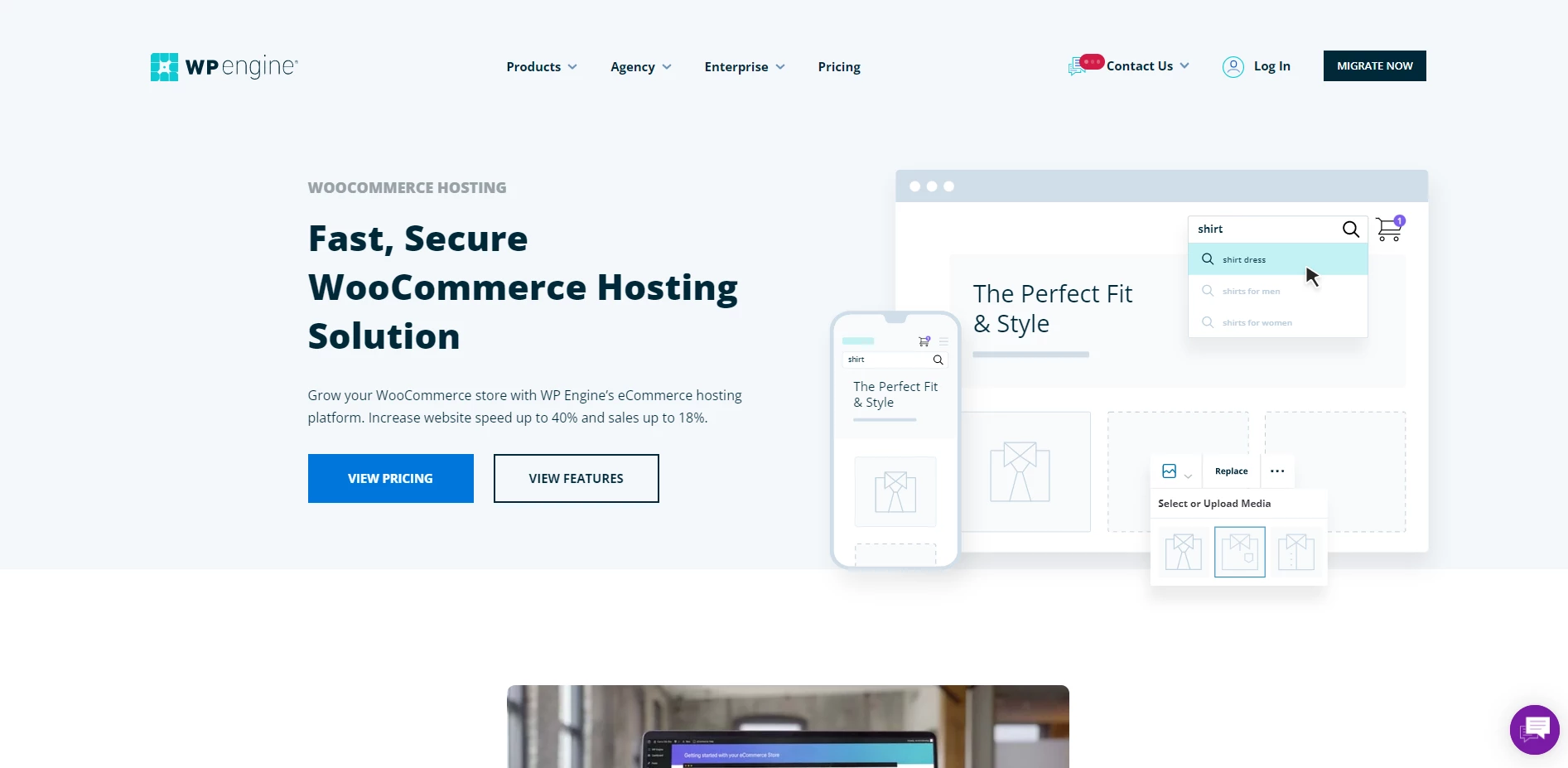 WP Engine is considered the fastest WordPress hosting for WooCommerce stores. They have WooCommerce-specific hosting which is optimized for speed and performance. You get instant store search which allows you to improve sales. Through instant search results, you can showcase the most valuable and relevant products.
WP Engine has an excellent support system with certified experts to provide you best support you can have from WooCommerce hosting.
What makes WP Engine special is its Genesis framework and 35+ free Studio Press WooCommerce-ready themes for customizing the look of your store.
However, WP Engine might not be the best beginner-friendly hosting option. With support 24/7, the team behind hosting is always ready to help you need in order to open and start your online WooCommerce business.
In order to get the best performance on Google Search, consider using StudioPress themes in combination with to best SEO plugins and backup plugins.
Top features:
Instant Store Search – This feature allows your customers to get instant search results for the relevant products.
eCommerce Blocks – Create new eCommerce landing pages and shopping experiences with customizable WordPress eCommerce themes and WooCommerce optimized Gutenberg blocks.
WordPress optimized caching and CDN – get fast loading speed with WordPress optimized caching and distribute your site to the worldwide servers via CDN.
WAF and DDoS mitigation – protect your brand with enterprise-grade security and reduce security risks.
Built-in Scalability – best-in-class infrastructure options to optimize your WooCommerce. With managed CDN, distribute your website around the global network of data centers to achieve 99.99% uptime.
Automatic Migrations – free migration plugin to make your store transfers automatic and instantly move your store to the WP engine.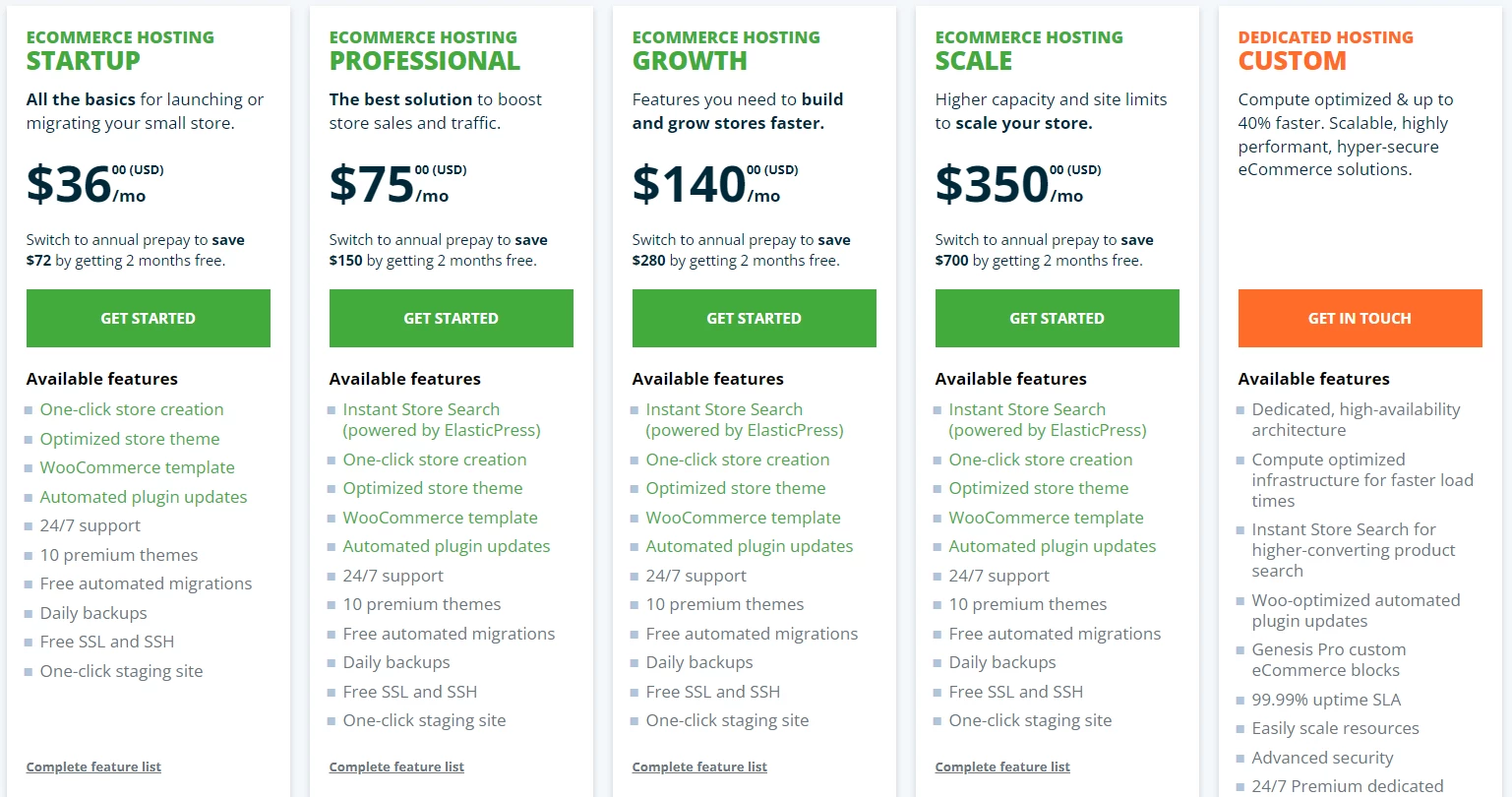 PROS
● 60-day money-back guarantee
● Free Data Backup and Restore
● Free StudioPress Themes
● Free Global CDN
● 100% custom eCommerce blocks
● Instant Store Search for advanced product search
CONS
● Highly Expensive
● Some Plugins and Themes are not allowed
● Doesn't sell domains or provide an email
4. Nexcess – The best WooCommerce Enterprise-Grade Hosting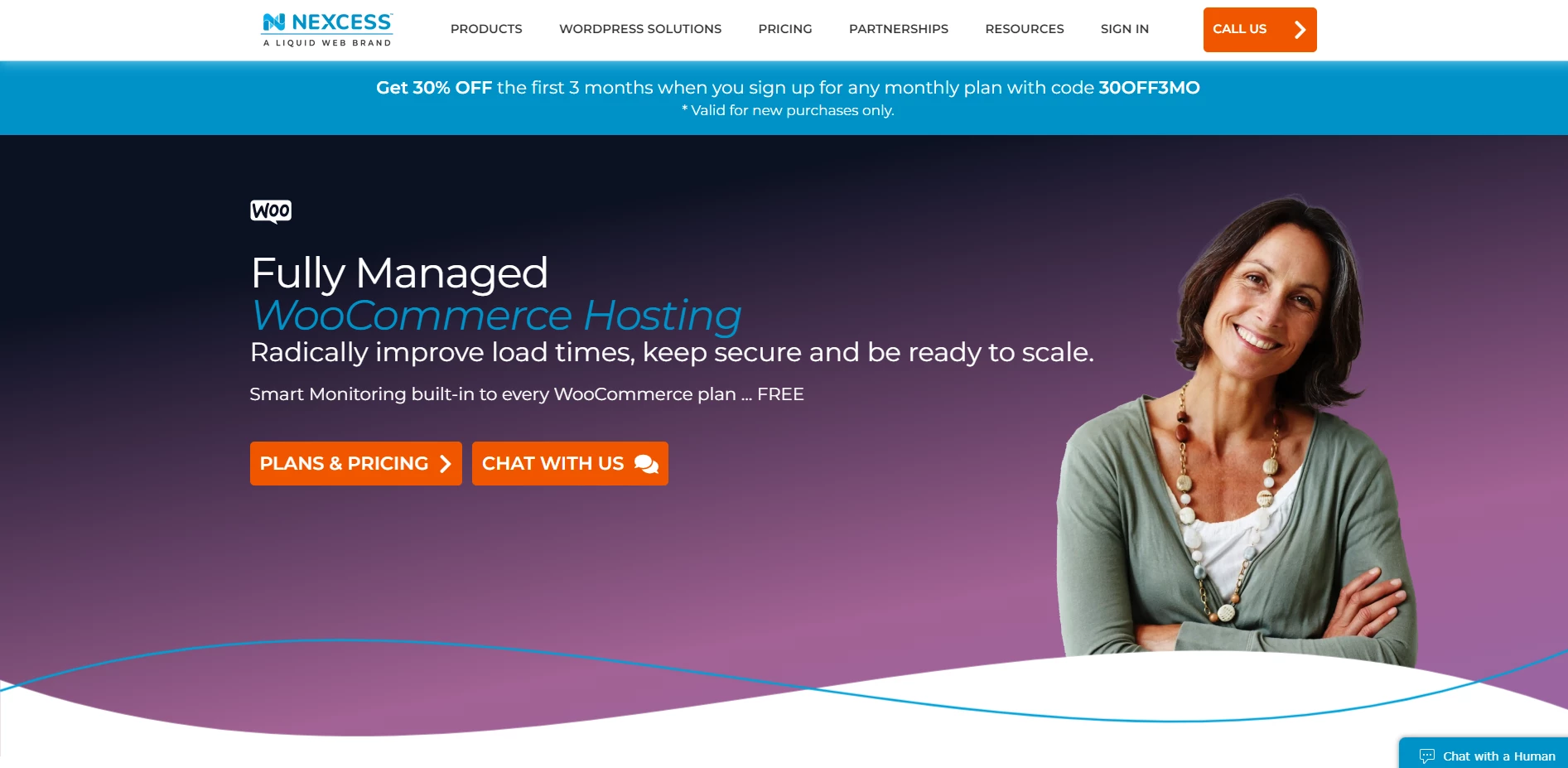 Nexcess is a fully managed WooCommerce hosting provider with a range of best features for eCommerce stores.
Nexcess has store-centric features to grow your business and thrive in the competitive world. It holds data centers around the globe that delivers performance, reliability, and scalability through a best-in-class open stack cloud platform.
Moreover, you can find WooCommerce plans with high security and performance monitoring. Store builder combines a building experience with curated, leading plugins and themes to create a fast and better WooCommerce store optimized for performance and growth.
Top features:
Free Smart Monitoring – WooCommerce alerts you to sales trends, slow site speed, and checkout problems.
Built-in CDN – Allow your site distribute to 22 locations and advanced caching for ultra-fast loading.
Automated updates & security – keep up with the latest versions and better malware protection.
Partnership with Affiliate WP – Host your own affiliate program
CSS and JavaScript management – improve your store's performance to achieve fast speed.

PROS
● Offers visual regression testing
● Free website migration
● 14-days of free trial and
● 30-day money-back guarantee
● Daily backups
CONS
● No free domain
● More expensive than some of the other WooCommerce hosting providers
5. A2Hosting – Best WooCommerce hosting for High Speed and Security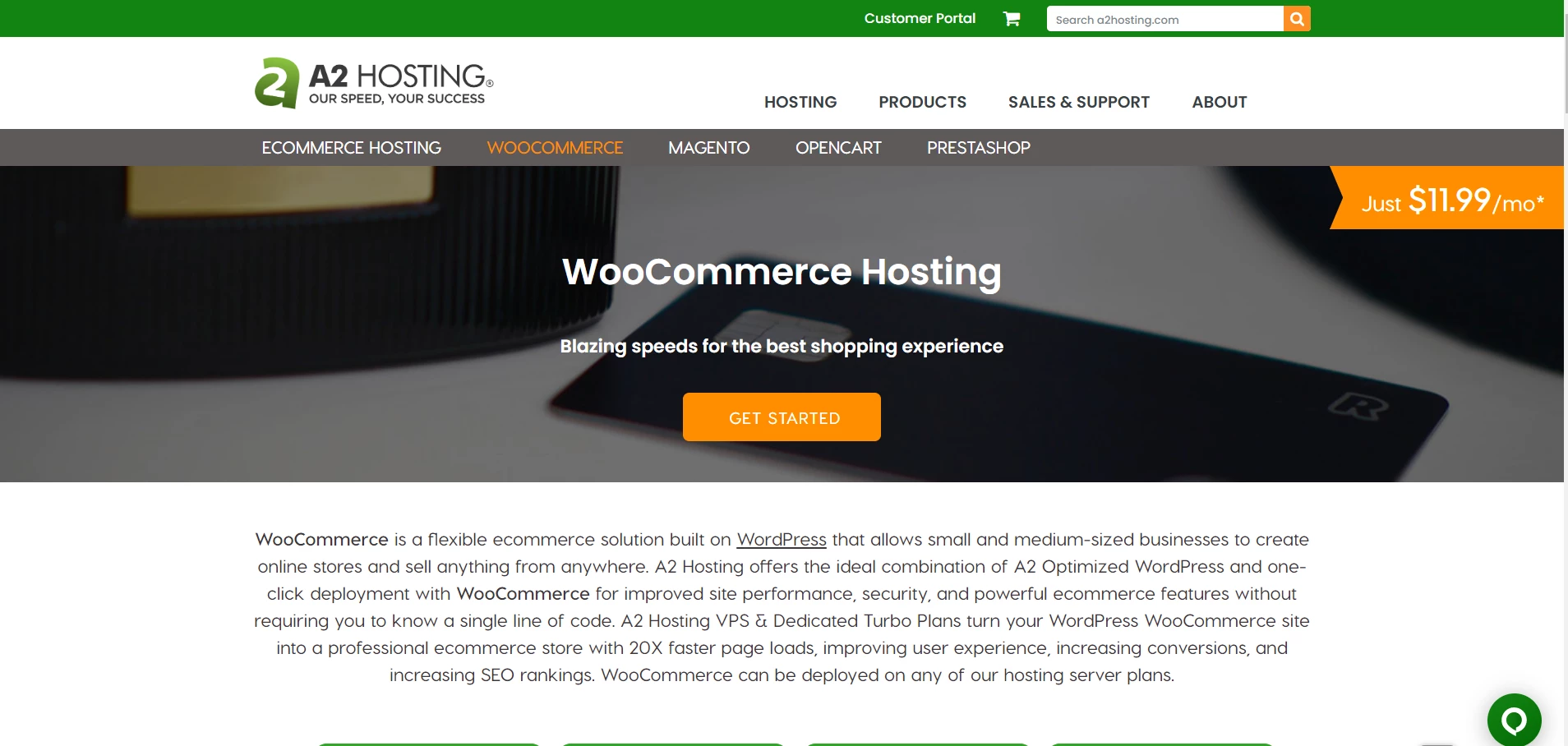 If you want your store to be highly secured at a fast-loading performance, you can trust A2 Hosting as your hosting provider. A2 hosting focuses on security, support, and speed to be one of the best WooCommerce hosting providers.
A2 Hosting is specialized in offering eCommerce-specific features to become the most reliable provider in the market.
It comes with turbo servers that feature turbo caching. The turbo caching allows you to store the entire HTML content of your pages. This will boost the performance of your website.
The hosting distributes your website via creating CDN so that it can load from the closest data center of the users for fast page load times. You can choose to have managed plans for your hosting which will provide you with maintenance, patches, and upgrades to keep your website on the latest version of the software.
Customers love A2 hosting also because of its enhanced security through an SSL certificate at no cost. A2 hosting guarantees user satisfaction. Thus, if in case you are unsatisfied with your hosting plan, you will get a complete refund with no questions asked.
Top Features:
Faster CPU performance – A2 hosting provides you powerful CPU with up to 40% faster performance.
Easy Management of High traffic – A2 hosting is considered to be a perfect hosting solution to manage 9x more traffic without affecting SEO rankings and conversions.
Ultra-fast SSD storage – Each plan of A2 hosting offers ultra-fast SSD storage with advanced NVMe storage designed for turbo plans.
Fast page loads – page loading is a crucial factor to consider for SEO rankings by search engines. Therefore, A2 hosting doesn't lack in their server speed so as to maintain page loading speed.
1 click installations – All you need is one click to deploy WooCommerce, OpenCart, osCommerce, Prestashop, etc.
24/7 availability – A2 hosting is committed to making sure 99% uptime with 24/7 network monitoring and around-the-clock support.
A2 Hosting is an affordable solution for startups to start with. However, premium plans will offer you more WooCommerce features for the easy management of your site and performance boost.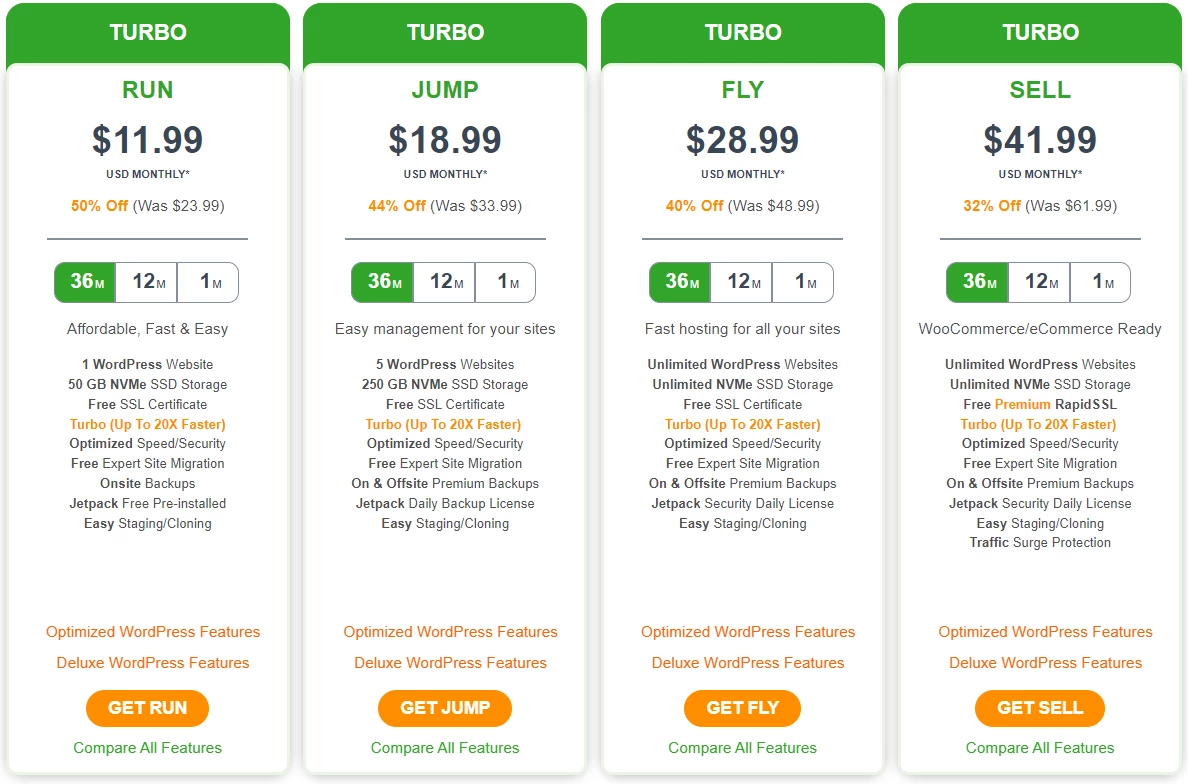 PROS
● SSD drives
● Choose server location
● Hassle-free money-back guarantee
● Free site migration
● 24/7 server monitoring and malware scanning
● Free SSL certificate
● 24/7 WordPress support
CONS
● Low RAM
● Startup Plan lacks necessary features
● High renewal price
Read Also: Fastest & Best Shopify Themes
6. GreenGeeks – Eco friendly WooCommerce hosting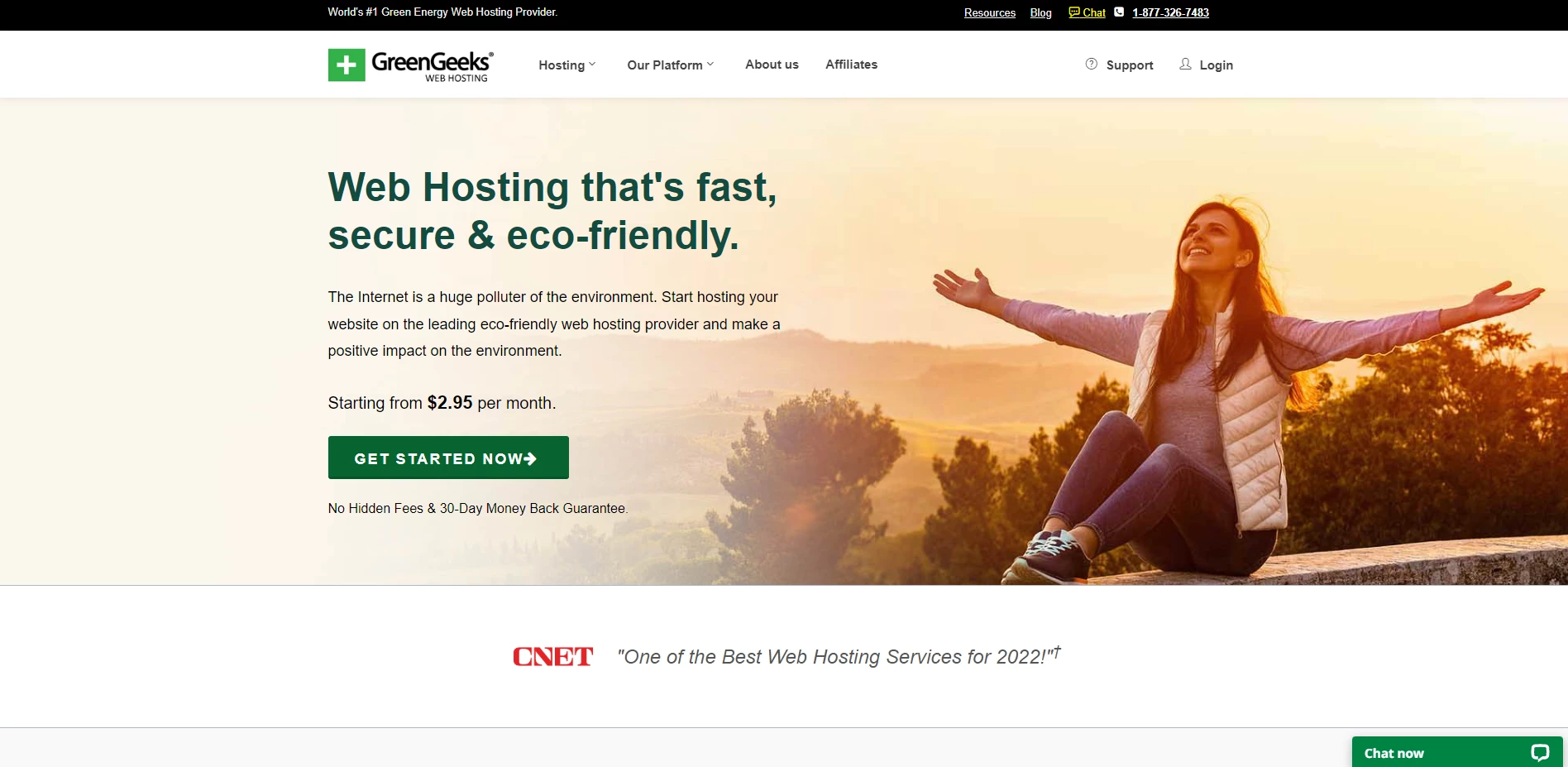 With Green Geeks WooCommerce hosting, your store will be hosted on a secured hosting platform. Green Geeks WooCommerce hosting plans are based on renewable energy. So, you can feel free to get their green web hosting, knowing that you are contributing to the environment.
Thus, Green Geeks' eco-friendly services become the perfect choice for environmentally conscious online sellers. Moreover, their hosting plans are aligned with planting more trees. For one new account, they plant a new tree.
When it comes to building your WooCommerce store fast, and secured, Green Geeks has dedicated features focused on security and performance.
Top features:
Automatic updates – Allow automatic updates for easy maintenance and to keep your online store secured and up to date.
Daily backups – Green Geeks allows you to back up all that data on a daily basis to ensure your data is secured in times of malware attacks or any hacking attempts.
Advanced Security – Green Geeks has customized security rules to ensure optimum security for WooCommerce stores.
Lightning-Fast Speed – Ecommerce stores are heavy to load because of the heavy resources on the pages. With GreenGeeks WooCommerce hosting, you get the fastest speeds on all websites and web applications to make sure your customers get the best shopping experience.
Dedicated IP – the premium plans of Green Geeks provide a dedicated IP address for your website to keep your own domain name with no SSL compatibilities issues.
Wildcard SSL certification – SSL certification is an important security measure for any online store. Wildcard SSL certificate provides the highest level of security for your online store.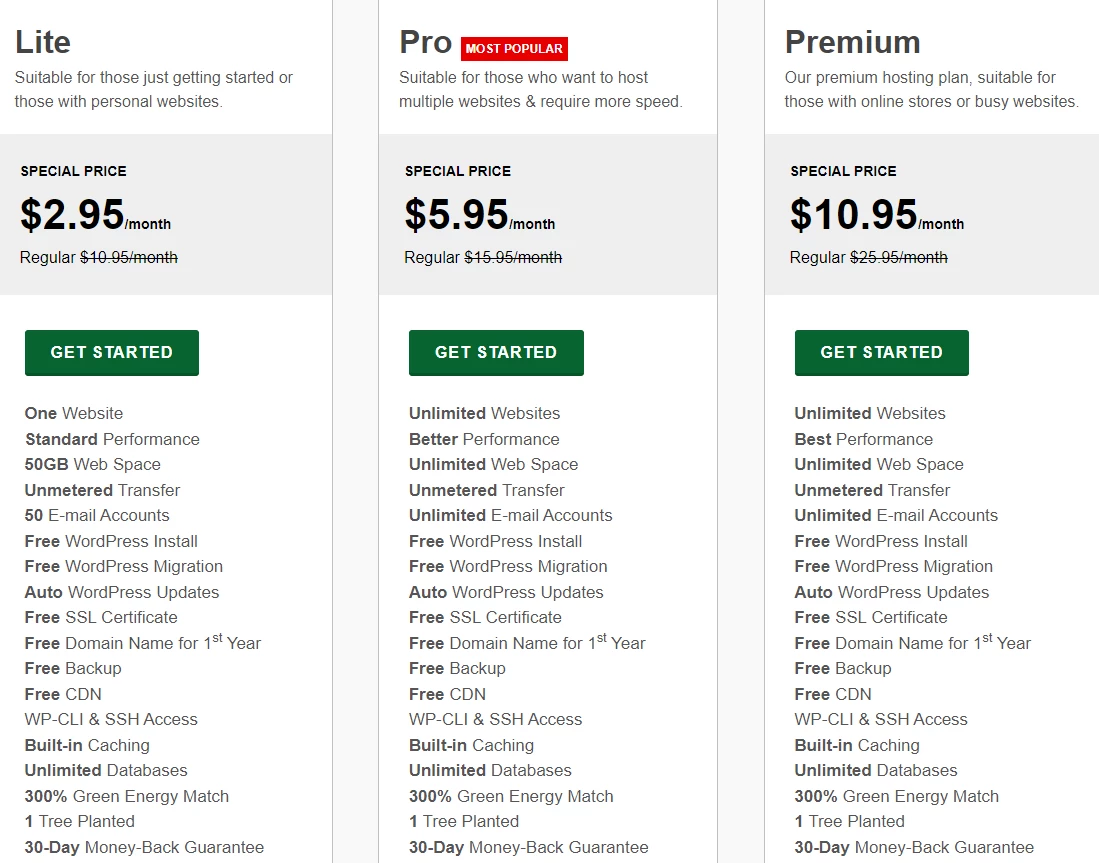 PROS
● 99.99 % solid uptime
● Generous storage
● Affordable prices
● Beginner-friendly user interface
● Guaranteed user satisfaction
CONS
● Setup cost and domain fees aren't refundable
● No Website Staging
What are the Pros and Cons of WooCommerce Hosting?
Pros
WooCommerce hosting pre-installs the WooCommerce so that you don't have to deal with the installation process.
Hosting for WooCommerce comes with a free SSL certificate and advanced security to keep your website secured against malware and safe for payment checkouts.
Faster speed and better performance so that your website loads all your products when customers want to make a purchase.
Cons
WooCommmerce hosting is more expensive than regular web hosting. High prices are the biggest drawback when using WooCommerce hosting, but paying more for hosting will help you in the long run.
Benefits of WooCommerce dedicated hosting over shared hosting
Here are a few benefits of WooCommerce hosting over shared hosting:
Faster Loading Website – a WooCommerce dedicated hosting is optimized for speed and performance to offer fast loading store. In shared hosting, your website may take as long as other sites to load because of the shared servers.
Better Site Security – In shared hosting, you only have as much security as the weakest secured site on the shared server. However, WooCommerce hosting comes with high-security measures and includes regular scanning of your sites.
Automatic Backups – having a regular backup of your site can help you to deal with any type of catastrophe. If you choose WooCommerce hosting service for your website, your website will be automatically backed up daily, which is often lacking in the shared hosting plans.
Regular Updates – WooCommerce hosting keep your system up to date with the latest versions. Shared hosting doesn't support the latest versions.
Excellent Customer Support – 24/7 availability customer support is the backbone of any hosting service. With WooCommerce hosting, you will get customer support from WP experts who can handle all your hosting-related queries.
Why do I need WooCommerce-specific hosting for my WooCommerce store?
A WooCommerce-specific hosting provides more eCommerce-specific features such as daily backups, firewall protection, high uptime, regular updates, and support. However, you don't necessarily need WooCommerce-specific hosting. If you don't want specialized WooCommerce hosting, VPS, managed WordPress, or dedicated hosting would be a good quality option.
What should I look out for when choosing a WooCommerce hosting provider?
When choosing a WooCommerce hosting provider for you, there are a few things you should look out for such as security to protect your site, automatic updates to keep your WooCommerce safe, and speed to ensure higher uptime and availability.
Why use WooCommerce?
WooCommerce helps you create beautiful storefronts for your online enterprise. There are various themes you can choose from. Moreover, customizing a WooCommerce theme is easy and straightforward, creating a memorable and unique look for your eCommerce platform. You can also have all the features specified by WooCommerce including support, digital products, memberships, subscriptions, and dynamic pricing.
What's the difference between WordPress hosting and WooCommerce hosting?
While WooCommerce hosting is a part of WordPress but not all WordPress hosting offer plans specific to WooCommerce. While WooCommerce can be used with any WordPress theme, there are WooCommerce templates that are designed specifically for an online store. These themes are often optimized for better performance and conversion rates and include features specific to help online stores such as shopping cart layouts and payment gateway options.